Details of Kothari National School (Mansukhbhai) Kondhwa Pune
By Madhurie Singh, December 24, 2014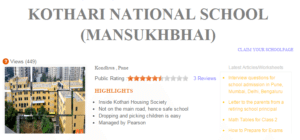 Details of Mansukhbhai Kothari National School Pune is added  on www.schoolkhojo.in. 
Click the image and check out all the tabs Overview, Premium Info, Parents' Reviews & Ratings and Expert Reviews.
Register Free on www.schoolkhojo.in as parent.
Login using the email address and password.
Click Overview to know :
About Us : About the school's philosophy
Unique features : of the school
Highlights : of the school
School details : like age of the school, board, management, school is co-ed or not, number of branches of the school
Contact details : of the school, like email address and phone number of the school
Class details : like what classes are taught in the school, number of sections, teacher student ratio, class timing, subjects taught
Challenges: what are the challenges faced by the school/ parents/ students
Click Premium Info to know :
Admission details : The month, admission process, documents needed for admission
Fee Details : Annual one time fee during admission, annual tuition fee every year, uniform, books  and transport fee
Communication : How school communicates with parents?
Infrastructure : How is the school infrastructure?
Activities : What are the extra activities and sports activities?
Teachers : What are the teachers number and qualifications?
Curriculum : What curriculum is followed by the school?
Result : What was the last year result of the students ?
Evaluation : How are the students performance evaluated?
Safety : What safety measures are taken by the school?
Hygiene : What is the hygiene level of the school?
Values : What are the basic values taught in this school?
Demographics : What is the social strata that belong to this school?
Click Parents' reviews to know :
To know what Ratings are given by other parents
Click Expert reviews  to know :
To know what is the opinion of the Experts