What Documents Required for School Admission
By Madhurie Singh, September 18, 2011
What documents are required for school admission? All schools have varied document requirements. when they call parents to submit the documents to the school during filling out the application forms and then later on during admission time. So what are the important documents needed for school admission? These are a few documents all parents must be ready with before admission application and school hunting starts. These documents are a must and if you are seeking admission for your child in any school, do not miss out or ignore this post. I remember during one school admission time, I was standing in a long queue. One parent did not have a glue stick to stick the photos. She was made to get off the queue and restart the whole process after she managed to stick the photos on the form.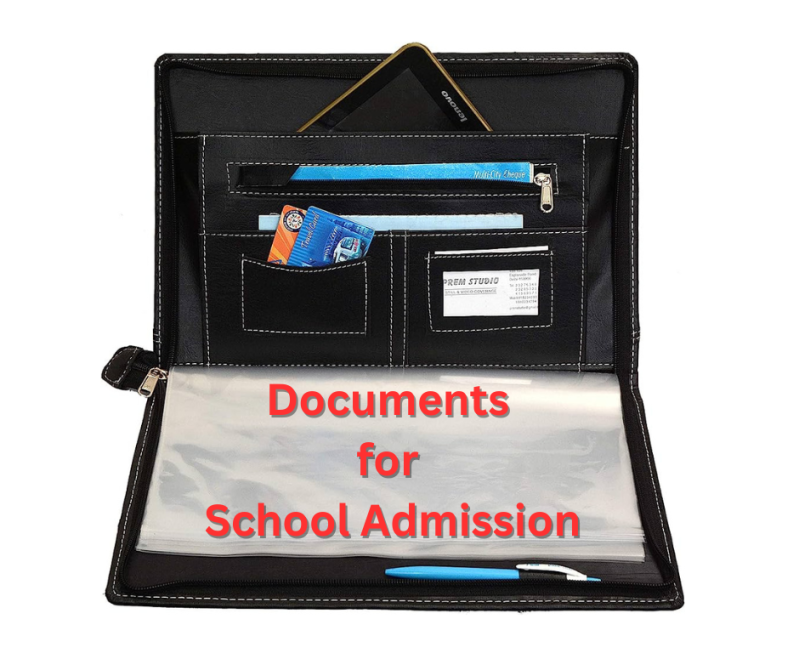 List of Documents Needed when Filling School Application Form
The following documents must be uploaded after you have filled out an online school admission application form on the website of the school.
Birth Certificate of the child
Address proof which can be a rent deed, documents to prove your own house, an Electricity bill by MSEB or state electricity board, Aadhar Card, Passport copy an appointment letter if moving from another place. Mobile bills are not acceptable.
Photograph of the child, parents in color and passport size with face, and shoulder visible. Some schools also ask for a family photograph.
Marksheet or the result of the past class of the previous school.
Aadhar Card of the child
Aadhar Card of mother and father
How to Upload Documents Online in the School Application Form?
First, collect all the above documents and also those mentioned below.
Using a pdf scanner, scan all documents and save them individually one by one with proper name like Photo-Child-Name.pdf, Aadhar-Child-Name.pdf, Asdhar-Mother-Name.pdf and so on.
Using the mobile camera, take photos of all documents again and save them one by one in this format. Photo-Child-Name.Jpg, Photo-Mother-Name-Jpg, and so on. You must repeat the same for png format for each document.
Now, check the size of all pdfs, pngs and jpges. They must be below 100KB. Some schools may allow up to 200kb but I have seen most sites don't accept more than 100kb.
If the file size of any pdf or jpeg is greater than 100kb, reduce the size of the file using an online file size reducer. I use this file size reducer. You may use any online site.
Next, it's important to save these in a folder with subfolders like school-documents.pdfs, and school-documents.jpg
These folders are very important to have all your documents saved in different folders at the time of filling up the school application forms. Many times schools will give you 20 minutes to upload all documents and if you have not got all your documents in the proper format, you may miss filling out the form. I myself was so panicked when uploading the documents for Bishop's Camp School.
How to Create a File Folder for Documents for School Admission?
How to create a file folder for documents for school admission so that the day you are called to submit the documents, you do not panic at the last moment. These are common scenarios in many families. Especially if you are working and your spouse is also a working parent, it's best to be ready with the documents in advance.
Important Tips when making Document Folder
All the copies of the documents uploaded or summited must be Self-Attested.
Keep all these documets in a folder with blank white A4 sheets, pens, pencils, glue stick, stapler, stapler pin box, ink eraser, a pair of small scissors, 10 envelopes to hold a bundle of 20 documents and 5 Large envelops
Carry originals of all documents in one folder which you must never hand over or leave any where
Keeping a signed paper of either spouse safely of course, helps when only one of the parents is initially handling the admission process and the other is missing on the day you have to submit the documents to the school office
Documents for Parents Seeking Admission Within the same State
Birth Certificate copies of the child duly attested by a notary. Keep

at lea

st 20 copies.
Passport-size color photos of the child. Keep 30 copies.
Passport-size photos of both parents. Keep 20 copies.
Previous class report card copies 2 copies.
If transferred then, Transfer Certificate copies of the previous school. 5 copies.
Migration Certificate if moving to a school within the same city or from any city within the same state. 5 copies
Bonafide ceritificate 5 copies
Address proofs like electricity bill/ mtnl/bsnl bill( mobile bills not accepted)/ house rent lease deed copy/ voter's id copy/ passport copy/appointment letter. 10 copies.
Qualification proof of both parents. Marks sheet of XIIth, Degree, Masters, and other certificate copies. 10 copies.
Salary slips of last month. 5 copy.
Bank Sta

teme

nt of last month. 2 copies.
Report card copy of last grade/class of the previous school
The entrance Test must be cleared if admission is for grade 2 and above grade 2
Current Academic Session's Report Card if applying mid-term for grade 2 and above grade 2
Caste certificate 5 copies
Documents for Parents Moving from Abroad or Another State within India
If you are an NRI, relocating from abroad or moving from another state within India, you will need extra documents.
All of the above
Copies of Domicile if you are moving from another state for grades 11 and 12 if boards are changed
Migration Certificate if moving from another state
Character Certificate from the last school
NRI / OCI certificate/card
Transfer Certificate/ Leaving Certificate if moving from another state (Though from 2023 there may not be a need to submit TC anymore)

Summary
The list of documents needed when filling school application form and submitting documents must be authentic, self attested, done atleast one month in advance and arranged neatly in a folder.
I have gone a step ahead now by installing the Digilocker app. Its safe as its managed by Government of India. My family members have uploaded their own documents in this app. This way anytime they need any document, its handy in their app.
Read School Reviews