Don't waste food story for kids
By Madhurie Singh, July 18, 2012
This is a repetition, but my favorite.
There was a story telling competition at my older son's class. Got a note from the teacher to write a story which he can memorize and narrate.
I dunno when I will stop instilling them with moral values and any sort of value in any form. (May be that is why the Tagore short stories books were such an incomplete and boring rewrite by whosoever wrote them.)
So wrote the story from the real life as it was the quickest and easiest thing on mind late night.
Here goes the story:
There was a a boy who was 4 year old. He was very active. He had a brother who was 6 year old.
The younger one named Garv was very thin and tiny. The older one, Shourya was chubby and tall.
Both of them troubled their mother for food One for not eating and the other for eating too much. 🙂
One day their mother got an idea.
She showed them pictures of poor and hungry kids on the internet which she got in her mail. It was about the hungry and starving children from Africa!.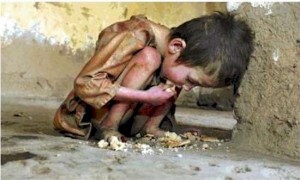 So when her sons were eating food, she called them to show these pictures.
All the children were really starved and malnourished. One of the pictures showed a kid who was searching for food in a pile of garbage.
Mother pointed at this picture and asked her sons as to what did they learn from this picture.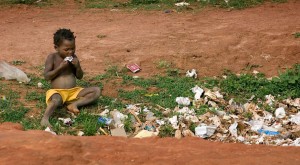 Shourya who thinks like all good children do said, "Mom, I will not waste food and eat everything you serve. I will also not overeat".  Mom was pleased.
Garv got up and went out and threw half his food from the plate into the garbage bin and said, " Mom, we should all throw half of our food from our plates every time, so that the poor and hungry kids get MORE food and do not remain hungry".
End of the story.
But I have new stories like this one every second day. And as you parents must have guessed what I have to deal with such lateral thinking kids at home! 🙂