Parents Feedback and Review of Orange Ivy preschool
By Madhurie Singh, May 03, 2016
Feedback of two parents for OrangeIvy preschool.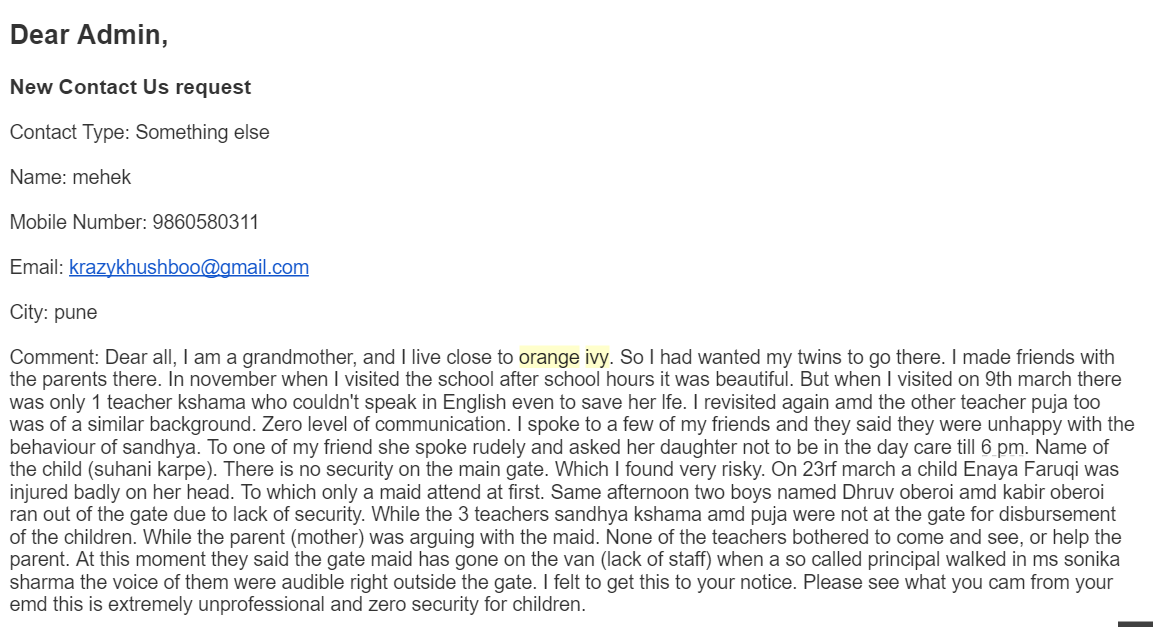 This is the feedback of an unhappy grandparent about her experiences with Orange Ivy who wanted to disclose her name too.
Name: mehek
Mobile Number: 9860580311
City: pune
Comment: Dear all, I am a grandmother, and I live close to
orange
ivy
. So I had wanted my twins to go there. I made friends with the parents there. In november when I visited the school after school hours it was beautiful. But when I visited on 9th march there was only 1 teacher kshama who couldn't speak in English even to save her lfe. I revisited again amd the other teacher puja too was of a similar background. Zero level of communication. I spoke to a few of my friends and they said they were unhappy with the behaviour of sandhya. To one of my friend she spoke rudely and asked her daughter not to be in the day care till
6 pm
. Name of the child (suhani karpe). There is no security on the main gate. Which I found very risky. On 23rf march a child Enaya Faruqi was injured badly on her head. To which only a maid attend at first. Same afternoon two boys named Dhruv oberoi amd kabir oberoi ran out of the gate due to lack of security. While the 3 teachers sandhya kshama amd puja were not at the gate for disbursement of the children. While the parent (mother) was arguing with the maid. None of the teachers bothered to come and see, or help the parent. At this moment they said the gate maid has gone on the van (lack of staff) when a so called principal walked in ms sonika sharma the voice of them were audible right outside the gate. I felt to get this to your notice. Please see what you cam from your emd this is extremely unprofessional and zero security for children.
The next feedback is from a parent whose child was going but she has decided to remove her child but did not want to display her name as the child still goes there.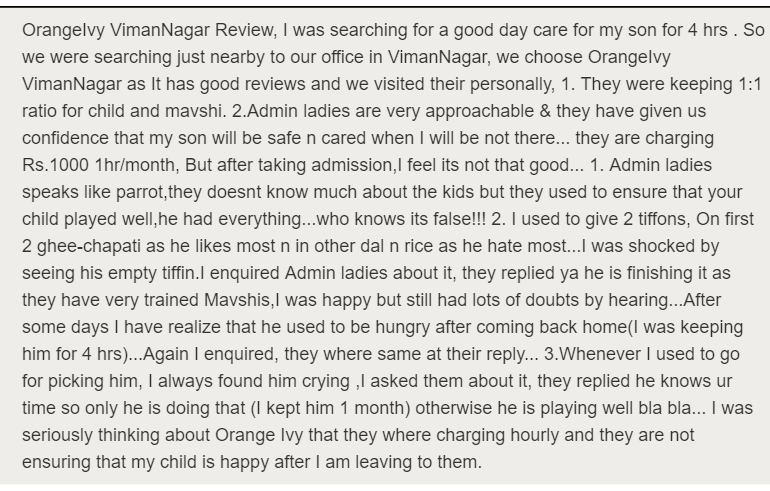 OrangeIvy VimanNagar Review, I was searching for a good day care for my son for 4 hrs . So we were searching just nearby to our office in VimanNagar, we choose OrangeIvy VimanNagar as It has good reviews and we visited their personally, 1. They were keeping 1:1 ratio for child and mavshi. 2.Admin ladies are very approachable & they have given us confidence that my son will be safe n cared when I will be not there… they are charging Rs.1000 1hr/month, But after taking admission,I feel its not that good… 1. Admin ladies speaks like parrot,they doesnt know much about the kids but they used to ensure that your child played well,he had everything…who knows its false!!! 2. I used to give 2 tiffons, On first 2 ghee-chapati as he likes most n in other dal n rice as he hate most…I was shocked by seeing his empty tiffin.I enquired Admin ladies about it, they replied ya he is finishing it as they have very trained Mavshis,I was happy but still had lots of doubts by hearing…After some days I have realize that he used to be hungry after coming back home(I was keeping him for 4 hrs)…Again I enquired, they where same at their reply… 3.Whenever I used to go for picking him, I always found him crying ,I asked them about it, they replied he knows ur time so only he is doing that (I kept him 1 month) otherwise he is playing well bla bla… I was seriously thinking about Orange Ivy that they where charging hourly and they are not ensuring that my child is happy after I am leaving to them.
I have a lot of other feedback that needs to be verified hence not posting as of now.