How to apply for school transfer certificate, TC ?
By Madhurie Singh, June 15, 2010
How to apply for school transfer certificate? If you are planning to change schools or have already decided to move to another city, you must ask for TC or Transfer Certificate from the last school of your child. In Maharashtra, the need for Transfer Certificate from a school is no more required. But for other states you must continue to read so that in future you know what is to be done. This is usually handed over by the school administration on the last day of the school on their own. They should hand over TC/Transfer Certificate, Migration Certificate, and Character Certificate. Some may hand you a Bonafide certificate also. But before they hand over the TC, you must apply for the same a month in advance. The school will give you a one-sheet form which you have to fill up there in the school. The school will take the form and after a month or whatever is their policy, will hand over the TC Transfer certificate to you. Along with that, you will also get back any Refundable Amount cheque that the school would have collected from you during admission time. You must also ask for a migration certificate and a character certificate if they are not handed in by the school because once you are out of the school premise, you will find it difficult to come back and collect them.
Sample Transfer Certificate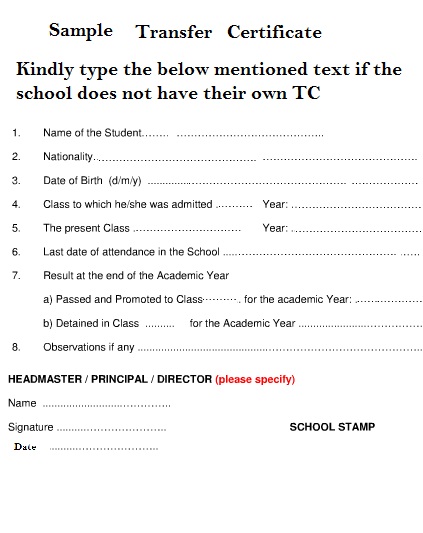 I had to apply for my son's transfer certificates from their previous schools to get admission done in a new school.
At St Mary's and DPS Pune, I did not have much trouble as they have a Transfer Certificate form that is to be filled.
What is needed to get the Transfer Certificate?
An application letter to the school is needed if you want a TC transfer certificate
Copy of the last school fee receipt
Fill out a form provided by the school which has details like why are you moving, and where are you moving.
Normally it takes 15 to 30 days for the schools to verify any outstanding. This was 10 years back Nowadays everything is done within weeks' time unless the school is on purpose making you run around
If there is any outstanding amount, you will be called to clear it off. Else they return the check for the security deposit and hand over the TC Transfer Certificate to you.
How do you write an application letter to the school for Transfer Certificate
Sample Letter to the Principal of the School
To
The Principal,
Name of the school,
Address
City
Pincode
From:
Your full name
Address
City
Pincode
Subject: ( Application for Transfer Certificate for Name of the Child of class 3)
Dear Madam/ Sir,
I am applying for the Transfer Certificate for my child, XYX, studying in class UKg, section B at Best Indian School, Aundh.
(Reason for seeking TC)
for example, As my husband has been posted to New Delhi by his company, we will be shifting to New Delhi by the end of this month.
or As we were unable to get admission for my second child in the same school, we have to move Ram from Best Indian School to Super Indian School.
We appreciate the education that my child has received from the BestIndian School under your enriching guidance.
I would also thank Mrs XYZ for being the most cheerful kindergarten teacher. My child will miss her dearly.
If there is anything for which the school management needs to contact me, kindly do so on this mobile number 89p888990333.
My new postal address is : Address My old postal address will be active until this month.
Kindly send all further communications at the new address only.
with best regards,
Mrs XXXX
Date: 12/ Jun/ 2010
Attachments:
1. Transfer Certificate form duly filled
2. Copy of the last fee receipt
Summary
If you like this article, do share with your friends and also comment below. Search Madhurie Singh on Google and find more important articles that will help you in your school admission journey.
What Documents Required for School Admission? You must read this if you have started your school search.