How to select a good school in Pune, India?
By Madhurie Singh, October 19, 2009
Hunting for good school for your darling? I know it can be not just stressful, it becomes very confusing with hundreds of schools in Pune!
Let me help you out my dear parents.
Follow me each week right here and get to know about each school little better than what you know now.
To begin with how should you select a school for your child? What are the factors which a parent must look for in any school before giving it a green signal?
Each of us has various factors and priorities, which you should sit and analyze with your better half.
You can make a simple table with the following factors and then rank them in the order of the priority that suits you. Since there is no right and wrong in ranking them, I will only suggest how I ranked these factors for my kids. I am also giving my reasons here in the table against each factor which might differ than yours.
Fixed factors are those which will not or should not change in future.
Changeable factors will change.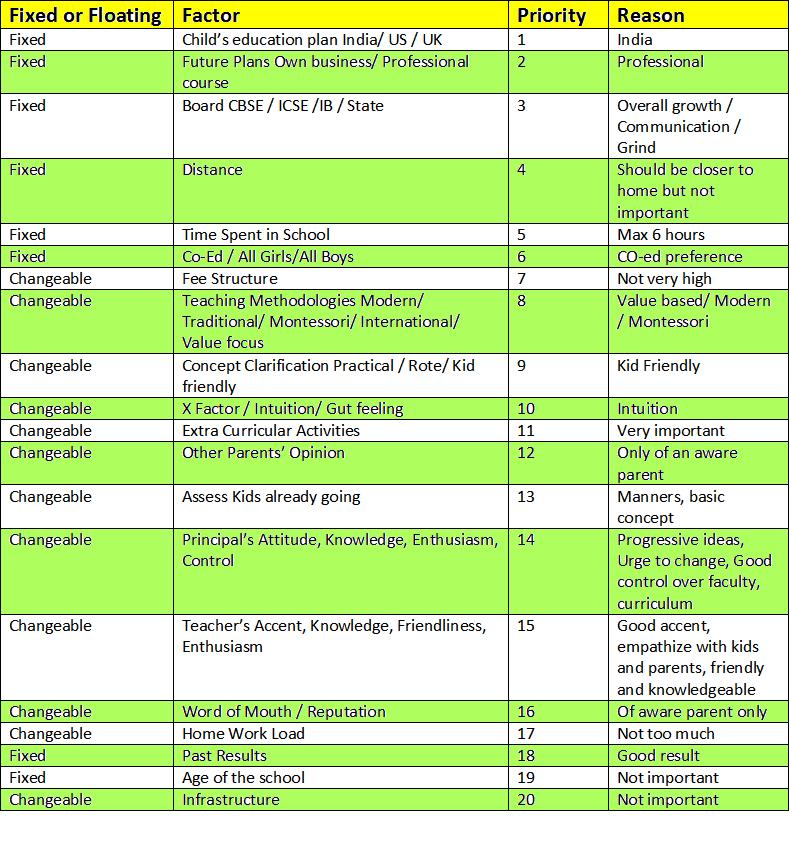 Once you are done with this list, you will find it's not as difficult or confusing to select the school in your area or city.
Next week I will assess DPS Delhi Public School for your benefit and provide you with as much details about the admission dates, procedures, criteria for selection based on my personal experience.
These are all suggestions and any parent reading them should remember to make best of these to take any decision.
TIPS TO PREPARE FOR SCHOOL ADMISSION
Questions Asked in a Parent Interview Round by Pune Schools
Nursery, PreSchool, JrKg Questions for Admission in Pune Schools Nov 2009 – March 2010
How To Select / Chose A Good Pune School
Which Education Board to choose for my child !!!!!!!!!!
My kids go to different board schools, DPS and St Mary's !!!!!
SCHOOL REVIEWS
Schools in Pune, India DPS, ST MARY'S, BISHOPS, LEXICON, VIBGYOR…
Playschool and Kindergarten Pre Schools in Pune !!!!!!!!!!
Aman-setu-school-an-attempt-to-preserve-humanity
DPS MANAGEMENT is Excellent !!!
DPS PUNE SCHOOL, A Benchmark !!!!!!
Yippy my son got through ST MARY'S SCHOOL Pune, India !
Kangaroo Kids Pune India
READ OTHER REVIEWS 🙂 Straight from the mom's heart 🙂