Chief Guest of Sports Day at Kinderbrook Preschool Kalyaninagar
By Madhurie Singh, December 28, 2009
Invited to be the chief guest of sports day at Kinderbrook preschool-Kalyani Nagar Pune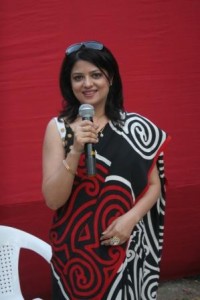 31st October 2009, will be one of those dates which I will always cherish.
Well, it was an honor that came to me quite unexpectedly a week before 31st October 2009. I was enjoying a very interesting lunch with three friends at Oakwood Premier, Koregaon Park, Pune. Mrs. Vanita Dogra, the principal of KinderBrook preschool – Kalyani Nagar Pune, gave a call.
With an amazing red wine doing it magical effect on my neurons, nothing more could have given me a high at the noon-ish time. But guys, trust me, the call was like an intravenous shot to the ultimate. After a few formal lines, she told me that the school was planning its sports day with Viman Nagar and Kalyani Nagar combined on the 31st of October and that they all (teachers) have decided that I would be their honorable chief guest of sports day and would have to give a speech.
It's one honor to be the chief guest but it's a more valuable honor to me as my two kids have spent their three years at Kider Brook School. I was overwhelmed and accepted the honor delightedly.
Preparation of speech at Sport Day
I prepared the speech of chief guest in sports function with bullet points that were close to my heart. Since I have the gift of the gab, I just need a few points to keep myself within scope. With bullet points refined and repositioned, I started to loudly elaborate on each point. It took a day and several iterations to refine my speech. One thing I forgot was the time limit. But that's what a first-time chief guest is forgiven for, right?
Sports day at Kinderbrook Preschool-Kalyani Nagar Pune
Come the 31st of October 2009, my kids were more ready than ever. All four of us dressed our best and landed at the Don Bosco Stadium, where Mrs. Dogra was waiting with all the parents of the tiny tots. Their parents in huge numbers were waiting too. Many of these were my good friends and parents of my son's classmates. They started to cheer for me as their suspense was overridden by a familiar face.
The kids were adorable as always, dressed in blue shorts and white tops.
There was such amazing participation by the kids for various interesting races like fisher-man and fisher-woman race, match the shape race, vegetable seller race, etc.
I could not stop smiling for the next two hours and by the end, my lips and jaw muscles refused to stop smiling! ( I was reminded of my marriage reception day)
I was thrilled when I gave away the medals and their certificates of excellence! There were times when I helped the kids in coming off the winner's podium when Mrs Dogra whispered to me that the teachers will take care of it. Can't help, Mrs. Dogra, I am a mom first, so all that basic instincts are now basically involuntary :).
There were races for the parents too. There was an event for the fathers where they had to tie a saree and race. I could see my hubby fumbling with a saree that had to be folded neatly before making a dash. The moms had to walk with a book on their crowns.
I gave a lovely long speech and will always be honored to be part of the school that has groomed my kids and me into better personalities. Do take a look at these lovely toddlers playing games with each other in such good discipline. My special thanks to Ms. Deepti and Ms. Dogra for the well-organized event. My sons really are blessed to have been through this preschool.