Mom What is a Strike?
By Madhurie Singh, August 28, 2014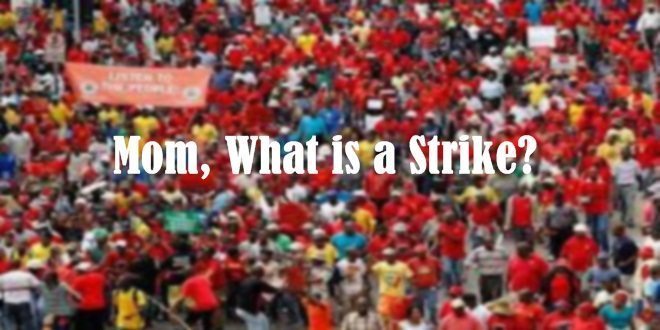 Recently a friend asked me how I would answer this question, if my children asked me "What is a strike?"
Since I have already told my kids about it long back, I will repeat it here.
"When sometime you have a problem that no one is bothering to solve, then you start to talk to your brother or friends or classmates who are also facing the same problem.
First you all will discuss and try to solve the problem yourself. You may want to make sure that you are right, in feeling bad and everyone else is also going through the same bad feeling. Then you all may decide to talk to the person who can help you. Let's say your teacher. She promises to help you. But then she forgets about it because she is very busy. Then you again talk to her or the coordinator, who also forgets or does not do anything about your problem.
When no one seems to be bothered about your problem and your feelings, you will get upset, frustrated and angry.
Then, you all may decide to show your anger by not attending your teacher's class or not submit class work.
This is called strike.
Strike means to stop doing what you are doing every day.
Now your teacher will have to sit and listen to you. Solve your problem and that of others' too.
When you grow old you will find that many times similar situations when no one seems to be listening to you.
Auto drivers, bus drivers, doctors, nurses, workers, shop keepers etc go on strike to tell people that they have a problem. But strike is like blackmailing.
So always talk to the person who can help you instead of talking to your classmates or friends as they cannot help you solve your problem.
(I believe it to the core: Share your problem only with people who can solve it, never with the whole world, who will not help you but also never let you forget it ever!)
Only elders like your teachers and parents can.
If you have problem with your teacher, you have to tell me or papa. Remember, there is nothing and no one on this planet that is more important to us other than you two.