Mom why is your roti different, thick and not so round
By Madhurie Singh, September 26, 2013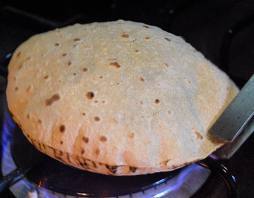 My 10 year old came back and asked my this question. " Mom! why is your roti not thin?"
I looked up with my fingers still tapping on the laptop, as though it was the most boring and no brainer question in the world. Honestly it is to me. Who cares if the roti is thick or thin, as long as it is cooked and served! So I did not really think much and said, "Why? What's wrong with my rotis ?"(Confused with the spelling roti or roties!!)
"My friends get thin rotis and they taste better." He said, removing his socks.
Still I was not bothered.
"Also they bring round rotis." He went on.
So many specifications about a plain innocent roti!
So I asked him, "How can a thin roti that is round taste better than a thick and not so round roti? It is made of same atta dough, and the purpose of eating roti is served in either case. So what's the fuss about?" I think I must have been irritated as such detailed kitchen related discussions do not invigorate my palate.
But he went on. " I think you can try to make round rotis and thin ones today. That way we can all see if they taste better or not."
Not really fretting over this grainy matter, I kept myself  inundated into my work and later checking on his preparation level for the half yearly that is going on.
Dinner time he was back. The round rotis dominated the kitchen and me.  Since my son helped me with the tiny atta balls making sure I did not pinch more to hasten the job,  my usual act of quickly making thick and irregular rotis to just finish the task was prolonged.   I had to make thinner and rounder rotis, so obviously the count went up and so did my para (mercury). For your information, before marriage, I was known for the round and perfect rotis. 😛
At the dinner table, my sons were surprised and really thrilled that they too could eat thin rotis that were actually round!
My husband commented too, " Beta 15 saal baad gol rotiyan mili hain, thanks to you !" with a naughty smirk on his face.
They were all imagining that it was them that could coax me into making thin and round rotis, but the secret is something else.
It was that one sentence  uttered by my son, " My friend's mom makes better rotis than you!"  🙂