Parent Teacher Association must approve fee hike
By Madhurie Singh, December 03, 2014
Good news for parents, schools must convinced  PTA before fee hike as per Enactment of the Maharashtra Educational Institutes .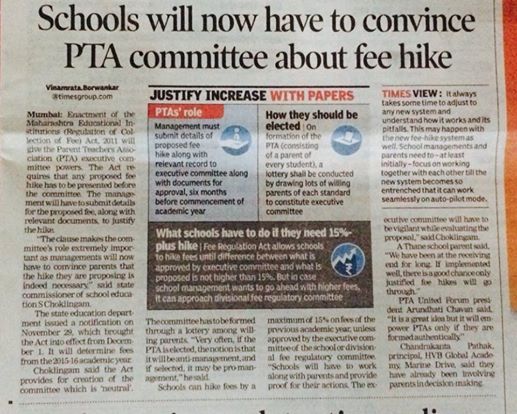 Mumbai: Enactment of the Maharashtra Educational Institutions (Regulation of Collection of Fee) Act, 2011 will give the Parent Teachers Association (PTA) executive committee powers. The Act requires that any proposed fee hike has to be presented before the committee. The management will have to submit details for the proposed fee, along with relevant documents, to justify the hike.
"The clause makes the committee's role extremely important as managements will now have to convince parents that the hike they are proposing is indeed necessary," said state commissioner of school education S Choklingam.
The state education department issued a notification on November 29, which brought the Act into effect from December 1. It will determine fees from the 2015-16 academic year.
Choklingam said the Act provides for creation of the committee which is 'neutral'. The committee has to be formed through a lottery among willing parents. "Very often, if the PTA is elected, the notion is that it will be anti-management, and if selected, it may be pro-management," he said.
Schools can hike fees by a maximum of 15% on fees of the previous academic year, unless approved by the executive committee of the school or divisional fee regulatory committee. "Schools will have to work along with parents and provide proof for their actions. The executive committee will have to be vigilant while evaluating the proposal," said Choklingam.
A Thane school parent said, "We have been at the receiving end for long. If implemented well, there is a good chance only justified fee hikes will go through."
PTA United Forum president Arundhati Chavan said, "It is a great idea but it will empower PTAs only if they are formed authentically."
Chandrakanta Pathak, principal, HVB Global Academy, Marine Drive, said they have already been involving parents in decision-making.