Review and comparison of BYJUS VS TOPPR coaching apps and videos
By Madhurie Singh, October 14, 2016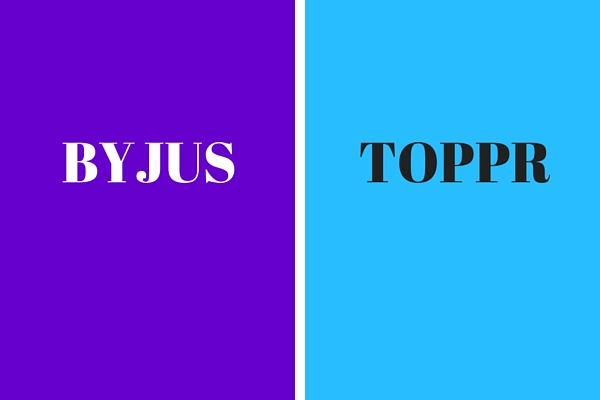 As you all should know by now, that my sons are now in 8th and 6th standard now.
This is the most important time for them to build the foundation of concepts for each and every subject they learn in school or in life.
As a reviewer of schools and educational products, I had to start reviewing the coaching classes, online and offline tuition sites and the recent addition of apps.
I started off with the names I was bombarded by TV ads and IITians around me.
So here I am reviewing TOPPR and BYJUS.
Obviously, I have not bought either of these two plans but, that is the reason of doing a good review. I do not want to end up spending money on run of the mill kind of apps as I am not keen to waste time watching what my sons already have learnt in the school. (update:I have now bought Byjus. So wait for my review about Byjus)
So let me start with TOPPR first.
The site toppr is cool and neat.
There was clear navigation of groups of classes under Foundation
Also easy to find groups for exams like AIPMT, JEE. (No CAT and other exams)
Login was easy using Facebook/ Google/ Email
I liked the sample for each class where I could click and play Learn, Practice and Doubts. Learn was to understand the subject. So I clicked Archimedes principle.
Learn : Archimedes was not at all impressive. There was a page with definitions! And a page to make you understand the principle. In this second page was a video which was 2d and boring. When I clicked this video, it took me to YouTube video of some random person's channel. So the video was not made by TOPPR!!!!  Since BYJUS's video was locked for this topic, I started again with TOPPR. This time the topic was Dispersion of light.
Then I check out Links where other resources for Archimedes were mentioned. This link took me to dummy.com/how-to/content/Archimedes… I was not at all impressed again to be using someone else's content. Again the video of Dispersion of Light on TOPPR was not their own content. This was the video they want students to learn from. Go down to check the video.
So the Learn phase was non-impressive. With TOPPR you cannot reply to learn the concept of any principle clearly in step by step method.
Practice/ Assessment: Then I tried my hands on the Practice. This was interesting with many questions about the same topic and MCQ (Multiple Choice Question) format. It does make it interesting to take test as you also come to know the mistake instantly. A fair analysis of the test performance is provided at the end of the test, which was cool.
Doubt: I clicked Doubt link and a chat box popped up. So I posted a question, which was answered by a tutor on chat.
The answers were typical answers which were again boring.
The Upgrade link was not very easy to understand that this link will tell me about the fee and course content.
Price: The yearly cost is Rs 3900/- for all subjects of class 8!  The fee is low but even that does not justify the need to take this service.


Madhurie Singh's verdict : TOPPR excellent tool to prepare for the tests and entrance exams as it has loads of questions to practice. 

But it is a waste for the foundation classes from the sample videos, learning material, links and chat with the expert.
BYJUS
The site of BYJUS is neat
There was clear navigation of groups of classes under Classes 6-10, Classes 11-12
Also easy to find groups for exams like  Class 11-12/JEE/MED,  CAT, GRE, GMAT, JEE, CBSE and IAS
There was nothing to login on the laptop.
So I installed the App which asked for Name, Number, email and city. I got a 4 digit code which I did not use?
Then I clicked Physics and 8th Grade.
I wanted to check Archimedes principal but it was locked. So I tried another principle that was available on TOPPR too. Dispersion of Light.
Here I could see that the video on Dispersion of Light was very captivating and short. Again the narrator was equally interested in ensuring that the viewers are with him and abl to understand the concept in a fun way.
Plans: The video ended shortly and a page opened prompting to buy the Subscription Plan for an Online Teacher @Rs199(before offer Rs 299) for 45 min per class,  offer valid for 15 days. OR buy 1 yr Math and Science Online Streaming course for Rs 10000/yr (before offer Rs 15000)  till 31st May 2017 or 8th Std Math and Science on SD Card for Rs 12000 which can be used offline. I think this seemed more interesting as my damn internet connect should be the reason for my sons to give any excuse. ( I know, kids will be kids, so parents have to be parents.) 😉
Price: The yearly cost is Rs 10000/- for all Maths and Science of class 8!  The fee is highest in the market.


Madhurie Singh's verdict : BYJUS is fun and I think I will definitely go for its SD card version as I prefer my sons to use laptop instead of a mobile phone all the time. This review is only for the Foundation classes 6 to 12.

I have not reviewed it for the entrance exams yet so do not know how well they compare with the TOPPR Entrance exam preparation.

If you have any review to share, please comment. I am sure both Toppr and Byjus will love to implement any good feedback.

If you want me to review any other learning tool, do write here in the comments.