Review of Amul Taaza Milk
By Madhurie Singh, December 11, 2016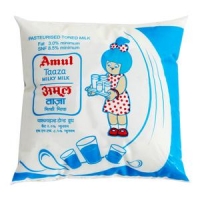 Review ofAmull Taaza milk and many food items will soon here on my blog.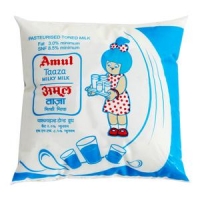 Product Details as mentioned on Amul's website.
Product Name
Amul Taaza
Description
Pasteurised Milk Amul milk meets the PFA standards for the respective type of milk.
Packing
Poly Pack – 500ml, 1000ml, 200ml, 5 Ltr *
* In selected markets only
Product Specifications as mentioned on Amul's website.
Composition
Fat (%) 3.0 min
SNF (%) *8.5 min
Nutritional Information

Nutritional Information*
Serving Size
200 ml
Amount per
100 ml
Energy
58 kcal
Energy from FAT
27 kcal
Total FAT
3 g
Saturated FAT
1.9 g
Cholesterol
8 mg
Total Carbohydrate
4.7 g
Added Sugar
0 g
Protein
3.1 g
Calcium
150 mg
Phosphorus
130 mg
Sodium
50 mg
Thiamine
42.5 mcg
Riboflavin
120 mcg
Niacin
100 mcg
Folic Acid
7.5 mcg
Vit. A(Retinol)
32 mcg
*Approx. values

Shelf Life
48 Hours from the date of packing if kept under refrigeration below 8°C
Storage condition
Under Refrigeration (Below 8°C)
Product Features as mentioned on Amul's website.
Amul Milk is the most hygenic liquid milk available in the market.
It is pasteurized in state-of-the-art processing plants and pouch-packed to make it conveniently available to consumers.
[tweetthis]Amul Milk is the only milk I trust but still never blindly. [/tweetthis]I continue to test milk at home, though it's not Amul milk that we take. It's a local dairy which does not tone milk. Thus we get milk with maximum nutrition and full fat.
When milk is pasteurized, Vit C is destroyed completely and Lactose is destroyed to an extent. Though, a warning. Raw Milk, has lot of chances of contamination with bacteria. So boiling at home is very important. Especially when there are children below 10 yrs at home.
I boil the milk and store (malai ) cream in the refrigerator. Every month, I get enough cream that is used to make pure Desi Ghee.
Check out this chart where you can see what is there in  Pasteurized Milk Toned Milk where both have added synthetic Vitamin D, A, and C. What a joke! Destroy the natural Vitamins and then add synthetic ones. Natural vitamins will be absorbed easily and better than synthetic.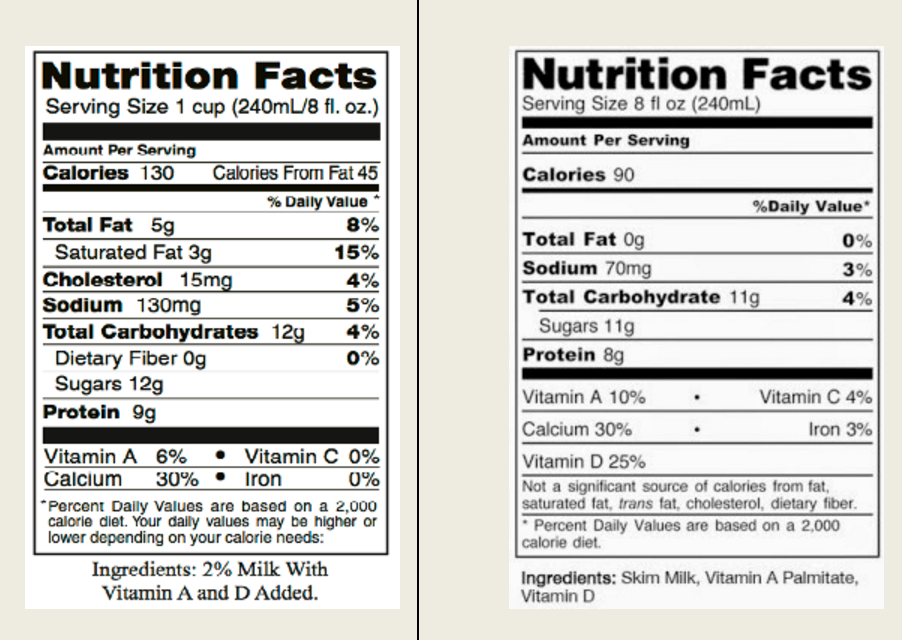 I will definitely warn you all against milk in tetra packs.
DO NOT buy milk or anything stored in Tetra Pack. It destroys all the nutrition.  Keep following my blog to read about the Tetra Packs.
Source:
http://www.problogbooster.com/2014/09/raw-milk-vs-pasteurized-milk-nutritious-facts-advantages-disadvantages.html
http://www.huffingtonpost.in/entry/raw-milk-debate-contreversy_n_5595345
http://www.huffingtonpost.in/entry/pasteurized-homogenized-milk_n_5606168
http://www.realmilk.com