Review of best baby massage oil for newborn baby
By Madhurie Singh, June 20, 2023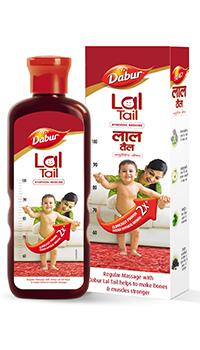 First posted on June 20th, 2023 , Read time 5 min
Author Madhurie Singh (BE, MBA, India's First Schools and Products Reviewer since 2006)
This review is for mothers of new born babies and toddlers between the age of 0 to 3 years to empower them with information, ingredients, review and usage about the popular brand Dabur Lal Tel baby massage oil by Dabur India Ltd. Lets find out if this oil is best baby massage oil for newborn babies and for toddlers.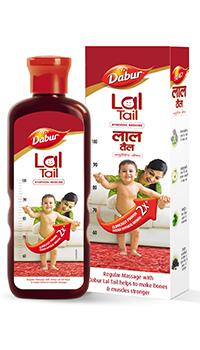 How To Growth Strength & Height of Your Children? with good nutrition is also a must read for you as a mother of newborns and toddlers. May be you wish to save this link.
Review
How will this massage oil make your child's body better?
Body massage of a new born and growing children has been known traditionally in Bharat since time immemorial. In Ayurveda the respected traditional science of health and wellness as explained in depth in Atharva Veda (the last of the four Vedas), body massage has been explained in great detail. It mentions how body massage of a new born helps in strengthening of the bones and muscles. Doctors from the paediatrics department of Jawahar Lal Nehru Medical College conducted a comparative research about Dabur Lal tail versus baby powders and no massage at all. They have found that those babies who were given daily oil massage grew twice in height and weight. It's also scientifically proven that massages with oil makes children sleep better thus leading to a better physical development. Read Research here. The massage oil helps in making skin soft and supple. Read Research here.
What makes this product so good?
I am a big fan of natural ingredients especially when it comes to babies and children who have very low immunity. Dabur Lal Tail massage oil is made of natural ingredients. This is the most important reason that I am quite sure that it is a great oil for new borns. It contains naturally grown ingredients like urad dal which is know to nourish bones and muscles as per Ayurveda. Karpura (Camphor) is second natural ingredient that helps stimulate blood circulation in the body. Shankpushpi is another ingredient which helps skin health and weakness. Ratanjyot is another ingredient that helps protect baby's skin. But what is the best ingredient that makes me recommend this oil to you for your darling? The base oil is Sesame (Til) oil. Pine Oil is the last base oil. These two base oils has been known to have great benefits in Ayurveda for muscles and bone growth.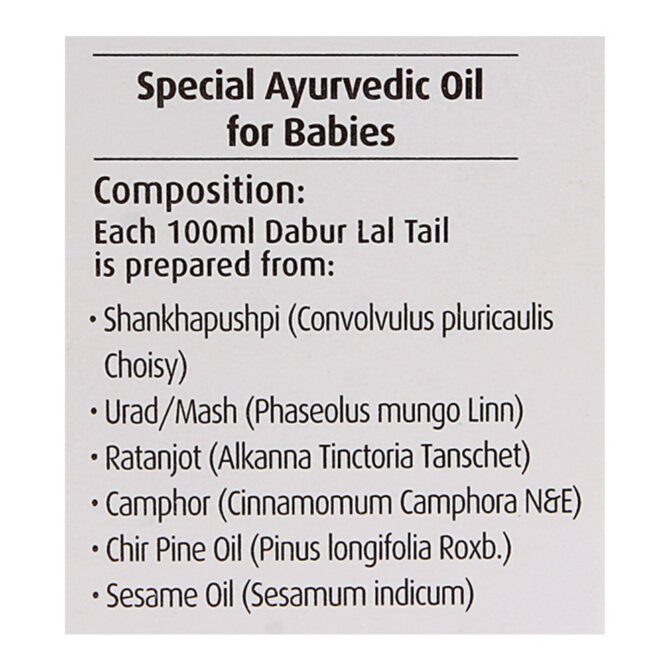 Video: How to use this product?
Click above video to watch the traditional method dadi naanis and maushis massage new borns in India Credit of the video to How to mom
Read Why science is agreeing with India's traditional body massage for new born babies?
What are the ingredients, its meaning in simple language and substitutes?
| | | | | |
| --- | --- | --- | --- | --- |
| Ingredient | Common Name | Meaning/ Source | Use/ Effect | Substitute |
| Sesame oil | Til oil | Seed oil | Highly recommended for babies and all age | Sesame oil, Coconut Oil, Mustard Oil, A2 Cow Ghee |
| Pine oil | Cheed oil | Pine Distillation | Prevents skin infection | Tulsi Leaves |
| Vigna Mungo | Urad dal | Pulses | Good for bones and muscles | A2 Cow Ghee |
| Camphor | Karpura | Pine oil processed | Stimulates blood circulation | Mint oil |
| Morning Glory | Shankpushpi extract | Flower | what is the need to infuse baby with chemicals | real vegetable or seed oil smells natural |
| Red Dye | Ratanjyot root | red color bark | Used to give red color to the oil | Beet root |
Ingredients Table of Dabur Lal Oil by Madhuriesingh.com
I won best consumer awareness blog for this article by Avante Garde Bloggers Award. Do read this and share it with other mothers and empower them along with your own self. Best Protein Health Drink for Kids – Horlicks, Complan, Bournvita? I did a very detailed comparison of ingredients in each health drink.
Features of this product
| | | | | |
| --- | --- | --- | --- | --- |
| Feature | Dabur Lal Tail Baby Oil | Good | Ok | Bad |
| Smell | Very strong pleasant mixed smell of camphor and Shankpushpi flower | Great | | |
| Color | Blood red | | ok as its natural color from Ratanjyot root. I have used this root to add color in my curries. | |
| Oiliness | Good | Great | | |
| Volume | 500 ml | Great as this will last for months | | |
| Price | Rs 445 | Super economical | | |
Features and properties of Dabur Lal Oil by Madhuriesingh.com
FAQ
Can vegetable oils and seed oil be used?

Yes anything naturally grown can be used. Coconut, mustard, Sesame and Cow Ghee are best oils for baby body massages.

Is baby massage good? If yes then at what age massage should start?

Yes its best to start from the early age for healthy bones and muscles. Indian grandmothers and experienced massage ladies should be given this task.

What are the disadvantages of massage?

If the mineral oils or synthetic oils are used there may be allergic reactions.

What other substitutes are available in place of massaging?

In case massaging with oil is not possible due to some reason, while bathing with water and soap, make similar palm movements on the baby's body parts to improve blood circulation.

If massage is not done then what are its effects?

If massage is not done , no visible harm is seen but comparatively the muscles and bones grow faster with massage.

Which country is known for body massages from new borns and new mothers?

India and most South East Asian countries
Summary
Dabur Lal Tail baby massage oil with pros and con
Pros : Looking at the ingredients like til oil, shankhpushpi, karpura, urad dal it's a great baby oil and I will wholeheartedly advise you to use buy Dabur Lal Tail . You may also use any oil at home made from seed or vegetables like coconut oil (nariyal), sesame oil (til), mustard oil (sarson) for your new born baby. Daily massage will improve skin health and the vigorous motion of the palms will help in giving a long sleep time to the baby during which the bones and muscles grow. At Rs 445 with extra discount for 500ml on Amazon, it's very affordable for Indian parents like you. And since body massage must be done for as long as possible, in my opinion to use this baby oil daily for 4 to 5 years is quite easily feasible. You may want to use it for your own body massage too.
Cons: I can't think of any cons till now.
Madhurie's Verdict: In my opinion its the best baby massage oil available in India. You may buy it here.
Sources and References
Disclaimer
The product review is to be read along with the references and research papers. The author and this website will not be held responsible for any outcome by the usage of the product. Decision to buy and use the product is solely up to the free will of the readers.
Podcast of the Dabur Lal Tail Baby Massage Oil – coming soon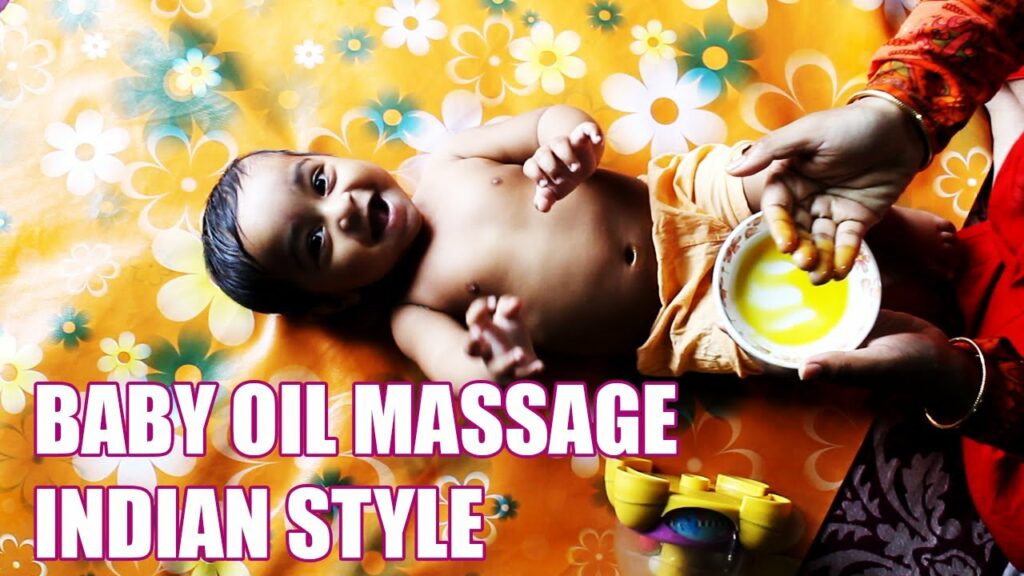 Want to get more such product and school reviews delivered to your inbox? Click here to get more reviews.
Subscribe to honest reviews
About Madhurie Singh (BE, MBA)
Welcome! I'm India's first schools and product reviewer, writing honest reviews since 2006. I write to empower parents like you who are shaping the future of India.

Madhurie Singh (BE, MBA) India's First Schools and Product reviewer since 2006.
At Madhuriesingh.com you will read honest reviews of schools and products along with parenting advices that will empower you to take informed decisions thus helping you shape your children's lives better. Madhurie Singh has featured on CNBC TV 18, Times Now News Channel, Times of India, DNA, Indian Express, Mirror, Sakal and many media. She was named amongst top 100 women digital influencer. She was commissioned by Coca Cola, Reliance, Bajaj Allianz, Dove and many Brands.