Review of NIOS Board
By Madhurie Singh, October 16, 2023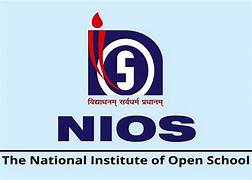 This article about NIOS National Indian Open School is updated with photos, facts and figures and shall be posted on Madhuriesingh.com. Readers who are interested in knowing more about NIOS and compare with other boards like CBSE, ICSE, IB, IGCSE, BSB, PMShri must check out this post which will be an eye opener as detailed board posts are coming soon under category Boards.
This year I was flooded with consultations from parents whose children were either asked by their schools to take transfer certificate due to below the school's performance expectations or because the students were finding it difficult to continue in the science stream in 9th to 11th grade.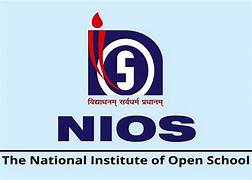 Now let's analyse each condition when a student is asked to leave school.
Case 1. A child who has been studying in a school for a minimum of 1-2 years is asked to leave the school because the marks are low in 9th or 11th grade.
I wonder why did the school give admission to the student 2 yrs back if the performance was not up to the mark then? Did the school not conduct any test? If the student was given admission based on the entrance test conducted by the school, it means the child was up to their standard.
Then what happened in the next 2 years? Why the school wants a student to leave school after 2 years? Is it because they think the student cannot secure good marks to showcase their school in the board exam? If that is the case, isn't the school at fault for not teaching the child since giving admission in their school?
Looks like the school was only keen on usurping the huge admission fee and then show the door to the student on the pretext of substandard performance.
Case 2. A student finds Science and or Math stream tough and wants to change the stream in the 10th or 12th class.
I find 40 year olds unsure of their life and life path, then how do we expect a child of 14 or 15 year old be sure of the stream selection in 9th or 11th class? Why are their only a limited or no options in subject selection within stream selection? Why should a child suffer forever if the school and parents were unaware of the subjects available in class 9 or 11? Unfortunately schools do not have the infrastructure or intentions to provide a vast choice subject selection like the international boards allow. Though even the scope of international boards is limited by the schools' infrastructure, intentions, and funds.
Case 3. Students are dreamers and want to become CEOs' and Millionaires without knowing their strengths, weaknesses, potentials or aptitude. This is now increasing in number and very disturbing. I find it rather cahllenging to guide parents who suddenly wake up and find that their children are aimless and have no skills. This is a dangerous trend. Do not let your child be clueless, aimless or day dream. As parents it is your duty to guide, motivate, show as many paths available to your children. Do not harp "My child will do whatever he or she wants to do!" Trust me today's teenagers do not want to do anything except play online games or watch TV or party. So before they turn into aimless headless chickens, take control as a responsible parent and start discussing career options, likes, dislikes, money, hard work and everything that is necssary to motivate these headless chickens into smart, goal oriented, focussed, caring individuals.
In any case, why should a child suffer or lose one year? If you do find yourself in this situation, time to take control back into your hands. When I was approached by too many parents in the last two years with one of the above three cases, I started to research for options for these students. I was not worried about anyone losing one academic year but I was worried more about the psychological impact on young minds who have always seen bright things. Failure makes everyone strong but it should be given in small doses. A big failure to a fragile heart and mind will be disastrous. So after assessing the students and their parents, I came across this gem which was hidden since last 30 years!
NIOS or National Institute of Open Schooling is a national board at par with CBSE / ICSE board with the benefits of IGCSE and Homeschooling.
The website is https://www.nios.ac.in/
Let me answer questions of parents about NIOS.
Is NIOS Board passed student eligible for top entrance exams and colleges?
If any university/institution objects in taking admission of a NIOS passed students then it is directly challenging the Ministry of Human Resource and development, the government of India as the NIOS is passed through a resolution (No. F.5-24/90 Sch.3 dated 14 September 1990 published in the Gazette of India on 20 October 1990). The University can be dissolved if it tries in any way not to recognize the Senior Secondary course (12th) passed by the student from NIOS board.
Is NIOS inferior to CBSE/ ICSE/ ISC/State Boards?
The NIOS board is in no way inferior to other boards like ISC/CBSE/UP board. The NIOS has the same rights and privileges as any other board and is in no way inferior to them.
No University/Institution in India can question the authenticity of NIOS board. The student passed from NIOS board is also eligible to appear in any Government job oriented entrance exams in which the minimum qualification required is Secondary or Senior Secondary. The student passed from NIOS board can appear in any Medical entrance examination, engineering entrance examination, NCHMCT, NIFT, COMEDK, CET, NDA Entrance exam.
Is it true that What subjects can be selected under what streams?
The NIOS board offers a lot of freedom in selecting subjects under any stream. The three major streams are Science, Commerce and Arts. The subjects are selected from three categories of subjects. First category is for Languages. Minimum one language must be selected. A student may select two languages too. In the next category three subjects must be selected. If someone is opting for engineering then Math, Physics, Chem are must. If someone is opting for Medicine as a career then Bio with Phy, Chem are must. If someone is keen on Airforce and Navy or Merchant Navy then Math and Physics is must in their 10th and 12th class. The third category of subjects have humanities subjects like History, Geography, Psychology, Commerce, Business, Accounting etc.
A student can choose any subject but a minimum total of 5 subjects is must. One Language+Three Subjects from category II + One Subject from category III or Two Languages + Three Subjects from category II + One Subject from category III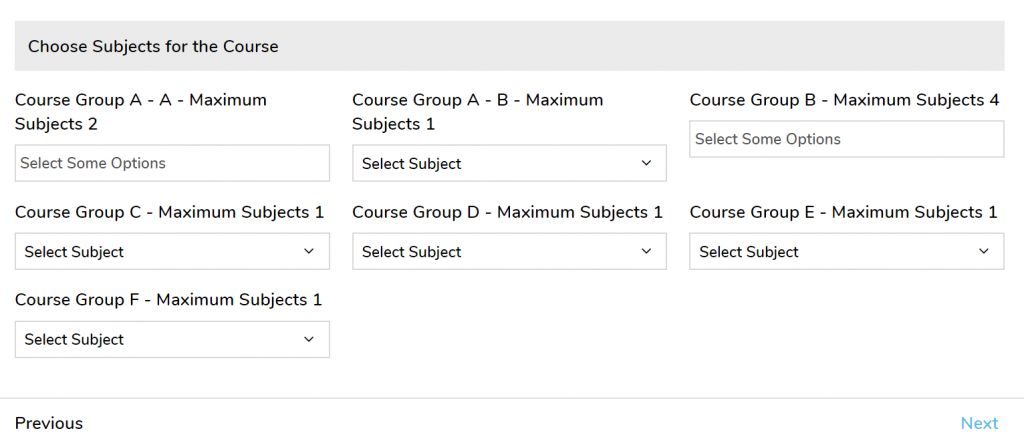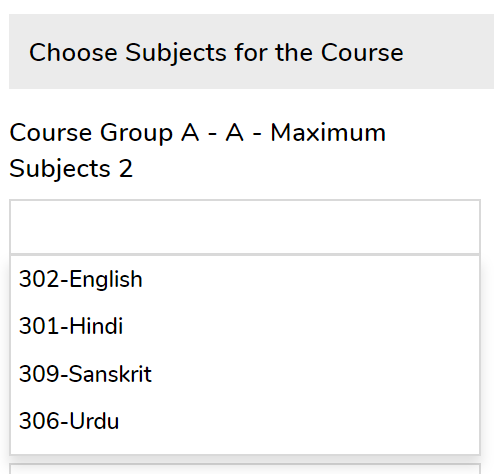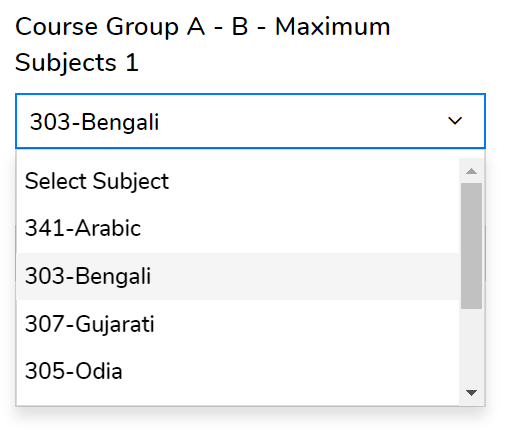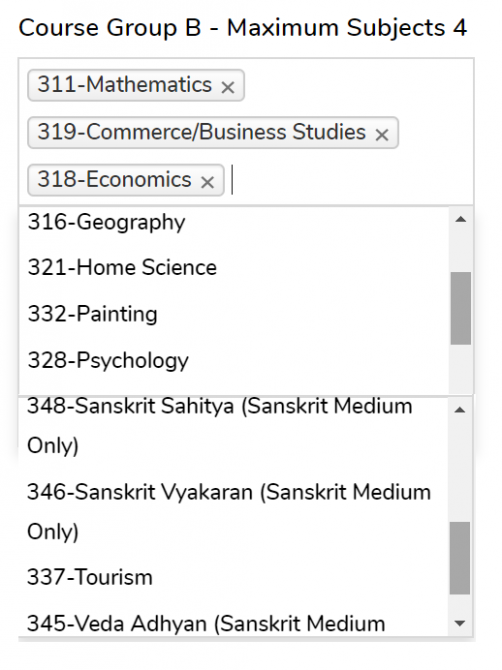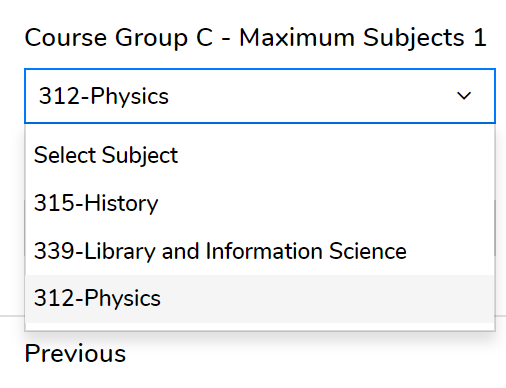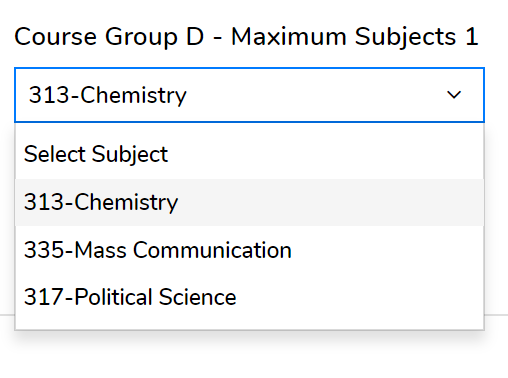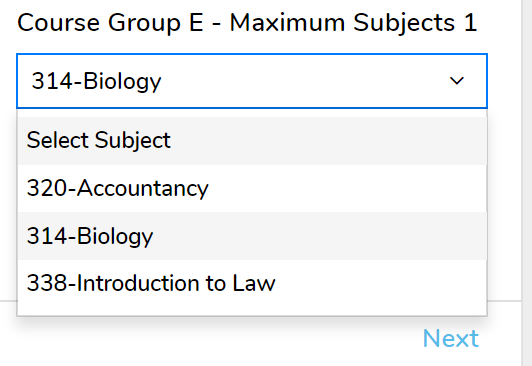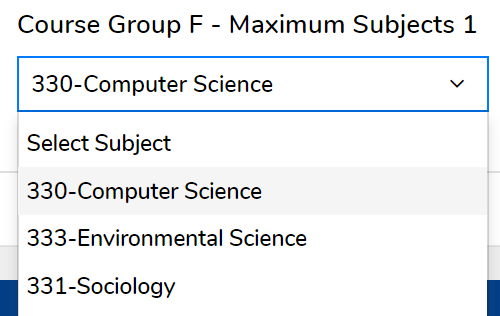 What are the admission months for NIOS courses?
Block for online Dates of online Admission
Dates of online Admission
First Examination in which students can appear
Block I
March 1 –
August 31
April/ May of next year
Block II
September 1- February 28
October/November of next year
What is On Demand Examination?
NIOS has introduced On-Demand- Examination System (ODES) at Secondary and Sr Secondary level conducted at NIOS Headquarters and Regional Offices where assessment takes place when the individual learner is ready to take it. The ODES is not only time independent but it also allows the learners to improve their performance till they are satisfied with their performance. Thus, ODES adds another dimension of openness in the Open Schooling System where examination became self-paced and degree of performance is controlled by the learner. Thus, a learner in NIOS can choose
a. ODES for all subjects, b. ODES in some subjects and public examination in some other subjects, c. Public examinations in all subjects held twice a year.
What are the mediums of instruction?
The medium of instruction for studying a course, which can be in Hindi, English, Urdu, Marathi, Malayalam, Telugu, Gujarati or Oriya (Odia) at the secondary level (class 9-10) and Hindi, English or Urdu at the Senior Secondary level (class 11-12). More medium of instructions are available with State Open Schools.
Is there any restriction for appearing for any exam via NIOS?
NIOS does not lay down any upper age limit for taking admission in different courses.
However, for admission, the minimum age of the learner should be 14 years for Secondary Course and 15 years for Sr. Secondary
A learner can seek admission at the basic and secondary level (class 9-10) by submitting a self-certificate.
But for Sr. Secondary level (class 11-12), Secondary School Certificate from a recognized Board is required.

What documents are required to register online in any NIOS Class?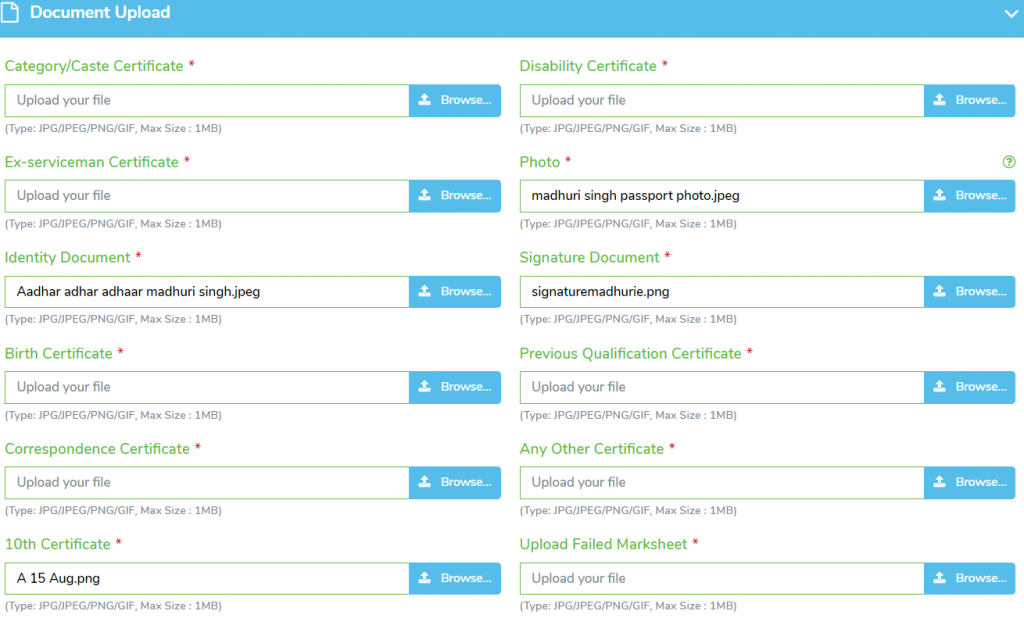 How is the student suppose to study/learn/gain knowledge after enrolling in the NIOS Classes?
The instructional processes in NIOS have certain distinctive features, which provide a wide range of learning skills. NIOS offers its courses through a multi-channel delivery mechanism, which includes:
• Self-learning print material to be studied by the learners at own pace and time at home.
• Supportive audio and video materials to be listened and viewed when broadcasted/ telecasted or at the study ccenter.
• Personal Contact Programmes (PCPs) at study ccentersto be attended for clearing doubts, solving problems, receiving academic counseling.
• Tutor Marked Assignments (TMA) to be submitted by the learners as part of continuous evaluation so that learners know their progress and attainment level and develop regular study habits. This is important as the tutors will really guide and help students at each step since the website is not updated as per the expectation.
• Use of Information and Communication Technology (ICT) to disseminate learning related information and hence facilitating effective learning.
Is NIOS eligible board for IAS, NDA, JEE, NEET, NATA, CLAT, CAT?
NIOS class 12th certification is eligible for any exam conducted nationally including IAS, NDA, JEE, NEET, NATA, CLAT, CAT .
How do International schools and colleges treat NIOS pass?
This has to be an important question for many. The number of homeschoolers in abroad is higher than in India. (Though I can debate here about the original gurukul system and homeschooling started in ancient India.) So I checked a few international colleges like MIT, Harvard etc and found that while the overall admission rate of students from day school is 6%, and the admit rate for International students is 3%, the admit rate for homeschooled is 1%.
The qualities that these prestigious colleges look for beyond academics like Initiative, Advanced classes done from OpenCourseWare, Coursera etc, Extracurricular activities like volunteering, social work, sports, theater, orchestra etc, Summer Camps in Math, Computers, Science etc, Recommendations from three independent people other than parents, These homeschooled children do get admission in prestigious colleges like MIT. Read here https://mitadmissions.org/apply/parents-educators/homeschool/
The qualities that these prestigious colleges look for beyond academics like Initiative, Advanced classes done from OpenCourseWare, Coursera etc, Extracurricular activities like volunteering, social work, sports, theater, orchestra etc, Summer Camps in Math, Computers, Science etc, Recommendations from three independent people other than parents, These homeschooled children do get admission in prestigious colleges like MIT. Read here https://mitadmissions.org/apply/parents-educators/homeschool/
Where is the Pune NIOS Main Centre?
National Institute of Open Schooling, Regional Centre – Pune, Second Floor, Indian Institute of Education Campus, 128/2 J.P. Naik Road, Kothrud, Pune, Maharashtra , India 411038
Where are the NIOS study centres in Pune located?
https://sdmis.nios.ac.in/registration/locate-study-center
Are there coaching centres in Pune that students can join to complete NIOS classes?
There are many coaching centres attached with each NIOS centers. Contact details of these coaching centers will be got from these centers.
How much is the fee for NIOS enrolment on the NIOS website?
Fee is less than Rs 3000/-

Success Stories of NIOS passes students.
Is there a list of successful NIOS Alumi?
Many students have successfully completed their 12th from NIOS and also scored ranks in IIT JEE exams.
https://www.quora.com/Any-story-of-a-NIOS-student-joining-IIT
https://www.quora.com/Is-there-anyone-here-who-got-a-satisfied-result-from-NIOS
https://www.quora.com/Is-NIOS-good-for-appearing-for-an-IIT-JEE
Pros of NIOS Board
Selection of Subjects on the free will of the students and parents
Study at your own pace or teach your child to study at his/her pace
Economical as the fee is less than 5000 for one year!
Time saved from the daily commute to school and spending school hours. Many students opt for NIOS in 11th-12th to prepare for JEE, NEET.
Study from any material though the material is provided by NIOS
An unsuccessful student from any board can give exam in the same year and pass that particular grade. So a student who has failed in 10th or 12th can appear for NIOS board exam and pass in the same year.
The exam is conducted twice a year, giving double chance for passing any exam within the same year.
There are study centers in all cities where students can get their doubts cleared.
A student can pursue two different courses by appearing for both.
Since age is not a factor, anyone can enroll and complete their primary schooling with certification from NIOS.
NIOS board certificate is recognized by all other boards, exams, institutes and universities except a few like Amity and MCI. (Both have now accepted the certification from NIOS provided the student qualifies in their exams and interviews.)
A very good option for homeschooled children.
A good option for children with disabilities.
Definitely a great option for parents who do not want to spend a fortune for schooling their children.
If a school is far or difficult to reach, NIOS will be a wonderful option.
Above all if your child is unable to cope up with the stress of the competitions and group studies then NIOS will be a great option for you provided you teach them.
Cons of NIOS Board
The Government has not promoted this board hence its not as popular as CBSE/ ISC / State boards
Unawareness about this board in the parents and students
The website lacks a lot of information
Since a large percentage of students opting for NIOS are from the economically weaker section, the board lacks the charm amongst parents
Success stories of NIOS board passed students is not in large number which makes it again unpopular
It is considered as the last option amongst students and parents who are asked to leave the regular school or board or when the choice of subjects is not available to students.
Parents dream to send their children to brick and mortar schools though many schools have started to offer this board along with another national board in their own school premise.
MCI (Medical Counsel of India) caused a dent in the reputation and abilities of the board by initially refusing to consider the 12th certificate from NIOS for NEET but have now accepted it with a few conditions. Check the link at the end.
If you come across parents who are really worried due to high school fee, health issues of children and attendance problem, asked to take transfer certificate by the current school, not able to study in groups, want the freedom to choose subjects, want the freedom to pursue their hobbies as future careers, share this post with them. Do like and comment any question you may wish to so that I can ask them to the right authority and repost them.