The Overlooked Career Options In India
By Madhurie Singh, August 02, 2014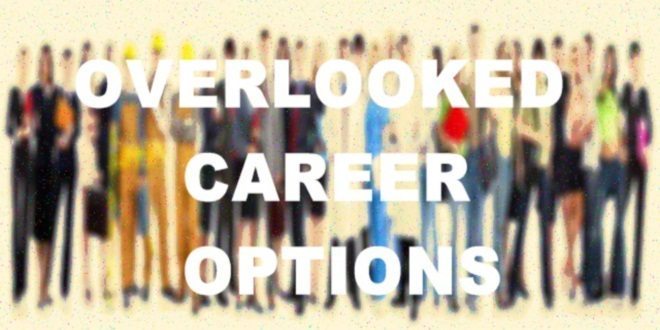 The Career Options in India
Parents of my generation would agree that we did not have many career options in India. Nor was the internet available to inform us about the overlooked career options in India that were available to us. I wanted to become a Doctor or a Fashion Designer. But was too lazy to study hard to be a doctor. I prefer to use my grey cells to find creative ways to solve problems so that I don't have to slog all the time like a donkey.
As I was always very creative with Art & Craft and add to that the glamour of the just budding fashion industry in Bangalore aka Bengaluru, I imagined to be a Fashion Designer.
My mom was very clear that I must become an engineer as my older sister was already doing her telecom engineering.
The damn CET results proved my fate was to become a Computer Science Engineer. But the itch to be a fashion designer was too much to ignore. So I started doing a course with IIFT too, along with my engineering. But after a year, it became too daunting to handle the heavy assignments of fashion designing along with the mind-boggling technical subjects, not that I recall any of them. Soon, I also realized that it was the glamour of designing that I liked and not the 100 designs in each assignment of the gowns or the blouses! End of the dream which was good enough for the dream but not meant for me. I wanted something challenging my brain cells and not the fingers or the figures only!
So I went on to complete my Engineering and later my Masters in Business Administration.
Today, when I look back, I thank myself for the decision.
And I recall how everyone we met in the ITI colony wanted to become either an engineer or a doctor! No one talked about commerce or arts or anything else. In fact, I did not even know that there was something like commerce to opt for! Gosh! so embarrassingly ignorant we kids were back in the 90's.
This morning, I met 3 kids while picking up and dropping off my son. All of them were pursuing commerce. One had opted for commerce in his class 11, another was doing his BCom and the last one had cleared his CA. All three have different family backgrounds of which two have family-owned businesses and are very clear to join their dads. The one who has completed his CA has no business blood running in the family but was very sure of running his own firm soon.
That's when I thought about exploring the many unexplored career option in India, by our Indian parents for their children.
So this coming month I will be exploring career options that are interesting, fulfilling, and financially rewarding too.
Career Path Finder by Prof Vijay Nawale
Check out this amazing image by Prof Vijay Navale of M-Power.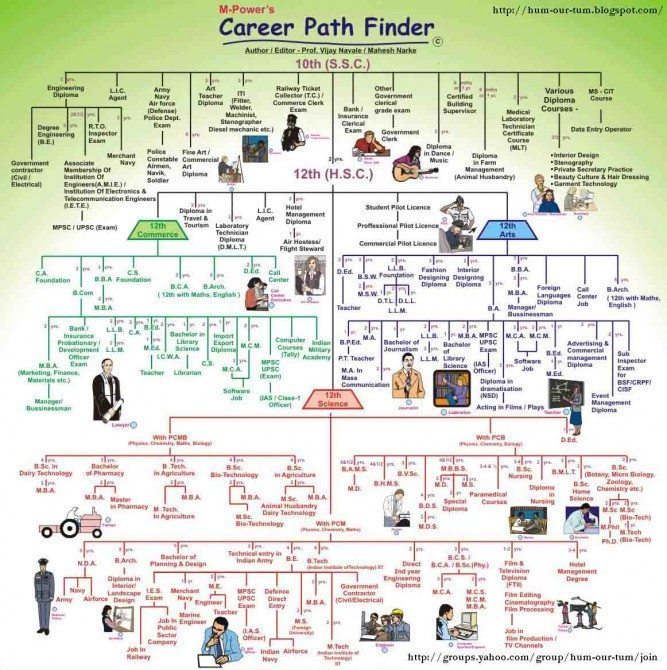 Conclusion
After years of providing education and career consultations to students and adults, I have gathered that passion, hard work, and luck are needed to make the best of your life with opportunities that knock on your doors. Many parents force their children to follow their own career path so that the business legacy or legacy in general continues. While many parents allow their children to choose their own career paths. The important point as a parent you should remember is to keep guiding at all phases of their career path.
If you have any career option in mind, that you know of and want to share with me or the thousands of readers of this blog, do write a comment below.
If you want to know about any career option, you may write about it too.