Admission Time for Pawar Public, Millenium, Hutching, Vikhe Patil
By Madhurie Singh, October 22, 2009
Admission time is a big tensionful time for all parents looking to get their kids admitted to the schools of their choice.
I remember the two years I had tried to get information on the internet , from parents in my neighbourhood and from the websites of the schools!
So this is for those parents trying to get dates of the admission for each school. A lot of hardwork has gone into making this information available with surfing the sites to making calls to the school offices. But even after all that hardwork, there is still a chance of the admission dates being changed by the school authorities. 🙂
Delhi Public School (CBSE)
DPS is the first school in Pune to start its admission process. The non refundable fee being Rs 55000/-. So if your really wish to take admission in DPS for your child, be ready with the amount. The dates below are only for Nursery, LKg, Ukg and Ist Std. For classes second onwards please check the sites if any vacancy is available. For other school will be updated … bookmark this post for other school admission details.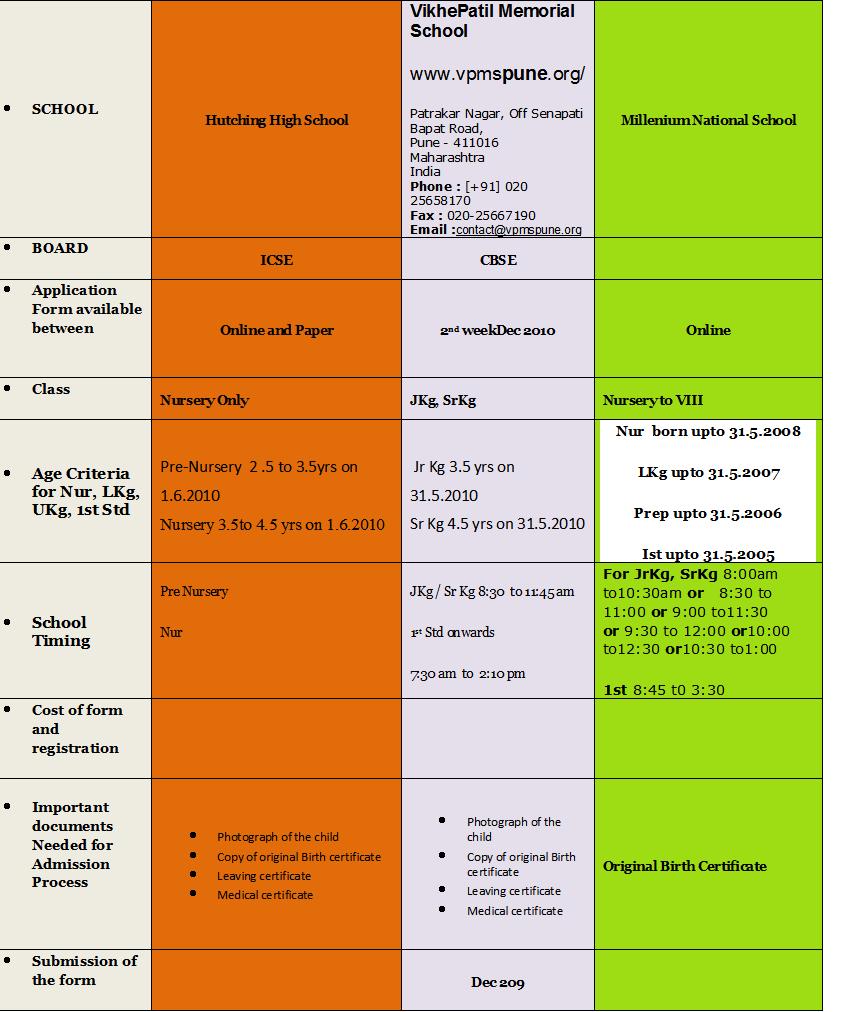 Admission Criteria Delhi Public School
Admission Criteria St Marys Girls and Boys
Admission Criteria Bishops Boys, Co-ed, Undhri
Admission Criteria Vibgyor High
Admission Criteria Pawar Public School
Admission Criteria Vikhe Patil Memorial School
Admission Criteria Hutchings High School