Ready Reckoner How to Choose the Right Board
By Madhurie Singh, August 04, 2015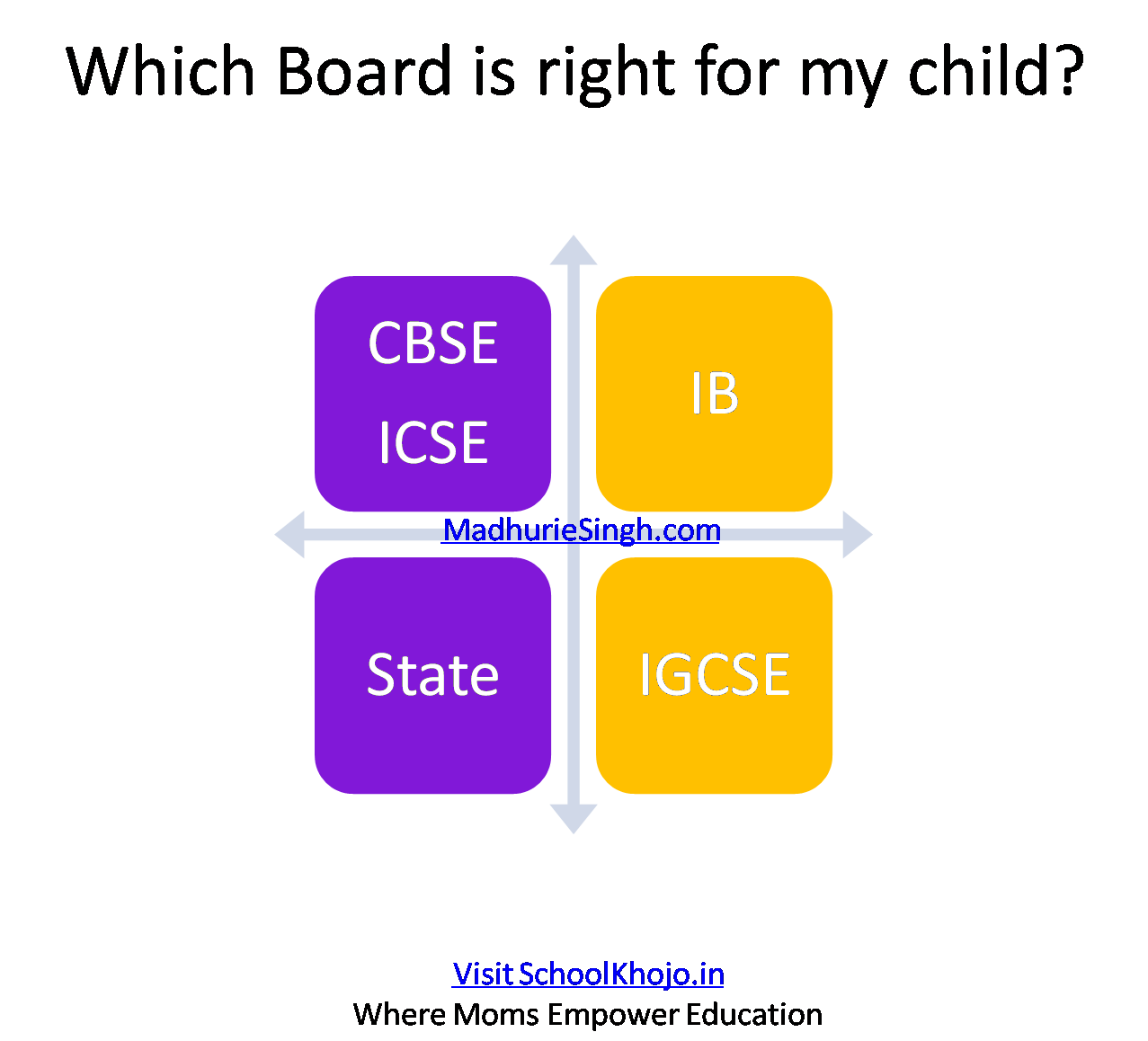 How to choose the right board?
The Indian education system is highly diversified just like its culture is diversified. There are state boards, National boards, and International boards. Each state has its own state board of education which caters to the natives of the state. These state boards also are needed to maintain the language, culture, and literature of each state in the local language. Then there are national boards that cater to the metropolitan cities of India. These boards provide a great deal of flexibility to parents who are relocating from one state to another in search of better prospects. And recently International boards have also set up their schools adding an international flavor to the already diversified education system. This has led to a great deal of confusion as too many choices always lead to extra confusion. How to choose the right board is tricky and confusing but if you know as a parent, what you want for your child, it should be a cakewalk. This article will help parents who want some hand-holding in answering their questions, about which board is best for their children. In order to help parents I have designed this ready reckoner of board selection. When you apply each criterion one after another, you should be able to shortlist the right board. Remember one important point on the Best Board is what is the Right Board for Your child.
State Boards
Each Indian State will have its own Board starting with the name of the state. For example, Maharashtra State Board, Karnataka State Board, Uttar Pradesh State Board, and so on. Keeping the local population in mind these boards have major portions in history, geography limited to state history and state geography. It makes sense too if someone has to live life long in one state only, then the focus must be on that state in depth. Of course, Indian History, World History, India Geography, and World Geography are also taught. State language has prominence to allow students to be connected to their roots via literature written in their native state language. It's said that if you want to be connected to the roots, learn your state language and read literature created in the local language. Yet the level of other subjects may lag in terms of difficulty and vastness. As my son did his 11th and 12th from Maharashtra state board school, I can vouch for the curriculum being very light. This is really great for those pursuing State Entrance Exams or colleges within the state. For anything more adventurous, board selection will have to be combined with school selection and the ability of the child. Then many other factors come into play that are subjective families and children.
National Boards
India has three national boards.
CBSE which is the Central Board of Secondary Education
ICSE which is Indian Council for Secondary Education
NIOS which is National Institute for Open Schooling
All three boards were designed and developed to cater to parents who had relocated from their birth state to another state. For the want of a better future, and better opportunities in career and life, parents move from one city to another within India. The National Boards allow such parents to easily relocate without much change in the curriculum. There are new boards started recently by Indian Government to cater to the NEP National Education Policy and Traditional Indian Culture. These boards are PMShri Board and BSB Bhartiya Shiksha Board started in 2023.
Top School Boards in India 2023
International Boards
There are primarily two International Boards in India along with a few trying to establish themselves.
Cambridge board is commonly known as the IGCSE board too. This is the mother of the ICSE board. During colonization, the Britishers decided to destroy the self-respect and memory of rich Indian history from the minds of the future generation. To do so they implemented the English language as a compulsory first language in schools, stopped funding gurukuls where Samskritam was taught. Then they created factory-based mass production and passed a law that rendered skilled villagers jobless. This led the mass youth of India dependent on government jobs. These government jobs had one criterion. Knowledge of English. So in 1871 when the first school was opened, it had English and all subjects in English medium. Since then English medium schools and government jobs have become a popular dream of most Indians. The board was Cambridge board which changed to ICSE with little Indian context after independence. Later the Cambridge board was again brought into India as the IGCSE board when the International relocation of Indians started.
Which Education Board to choose for my child?
Which Board is Best for my child?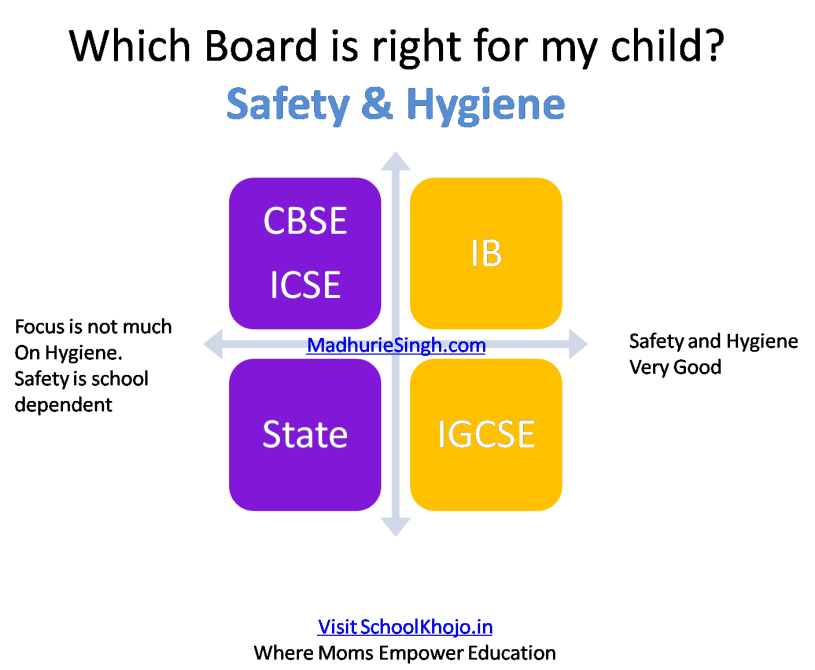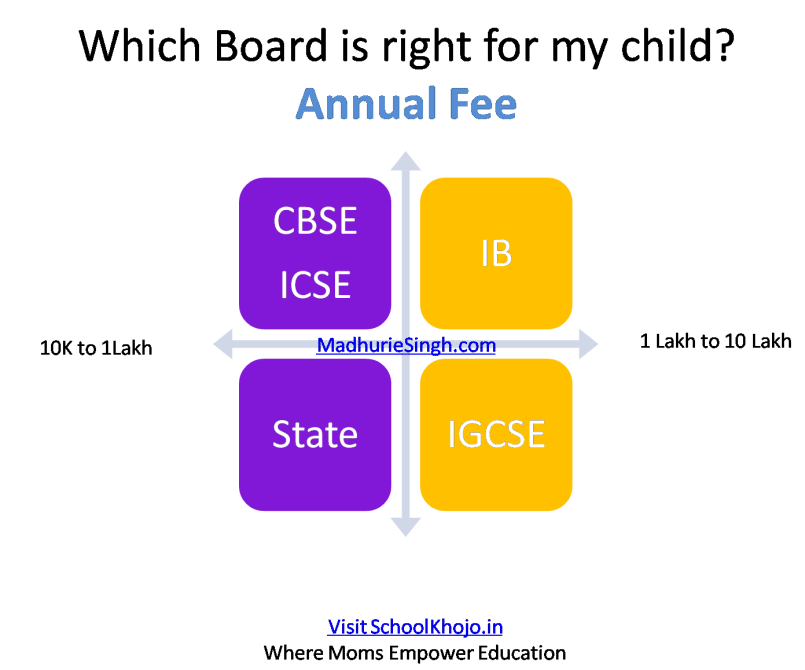 Which board is best for my child? CBSE, ICSE, IB, IGCSE, State?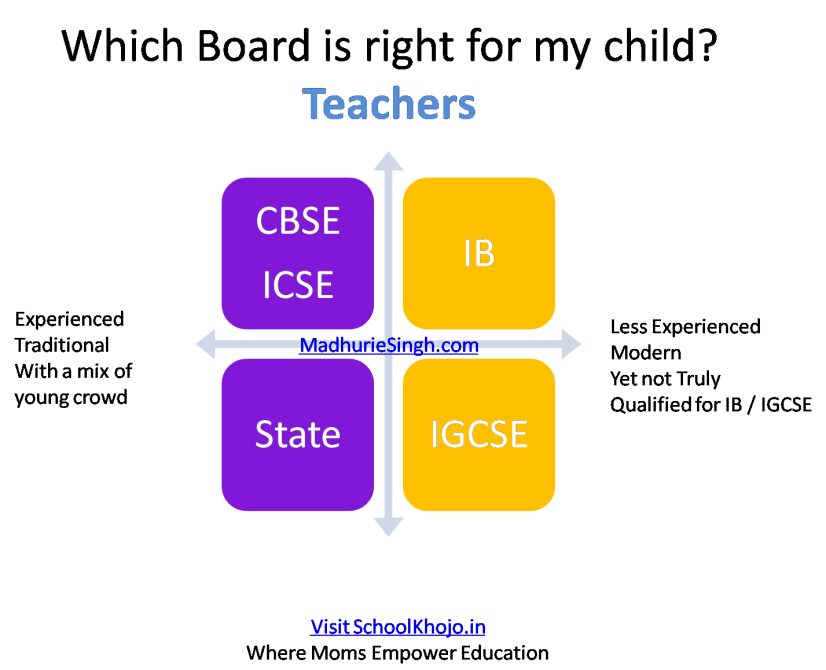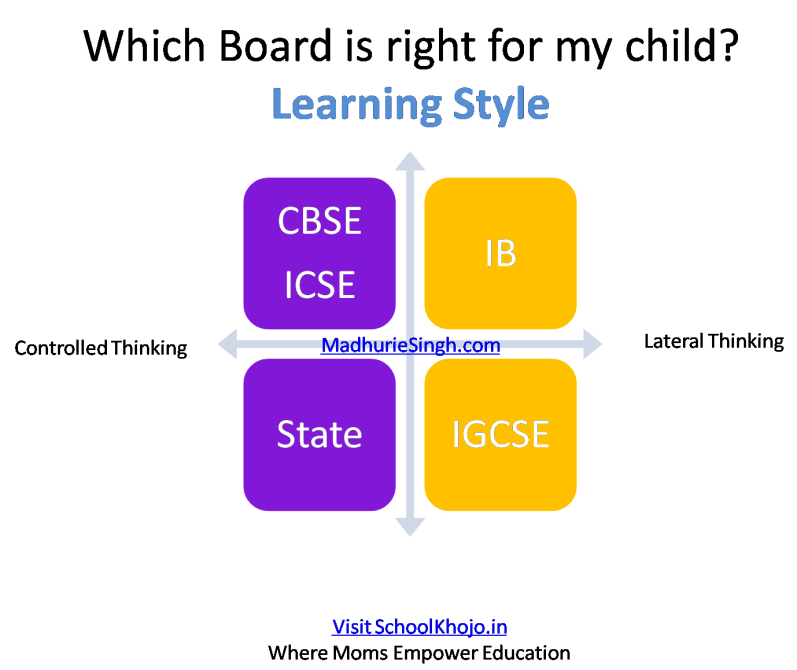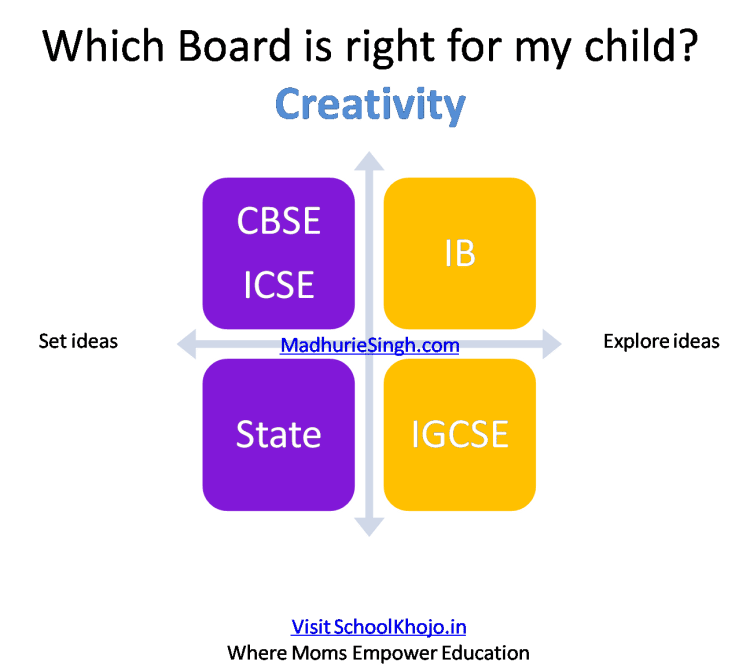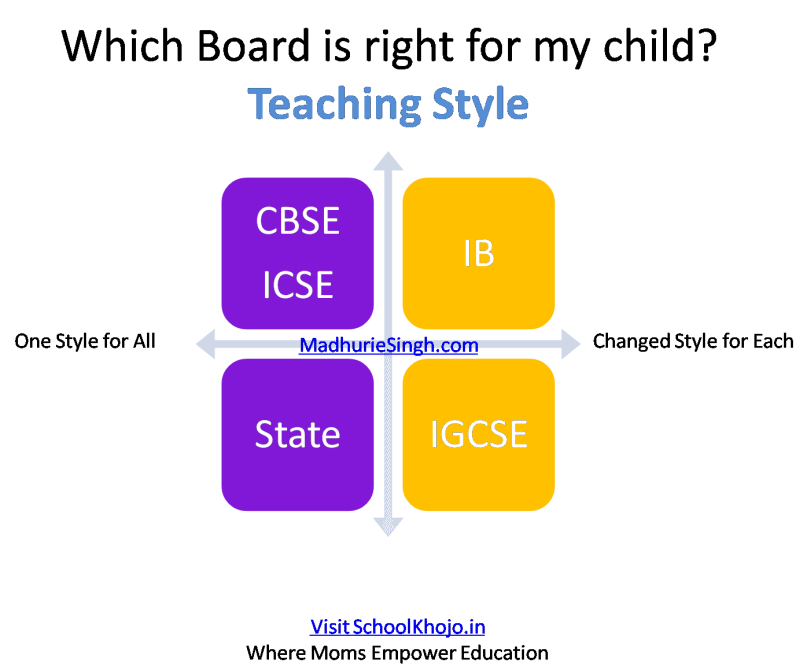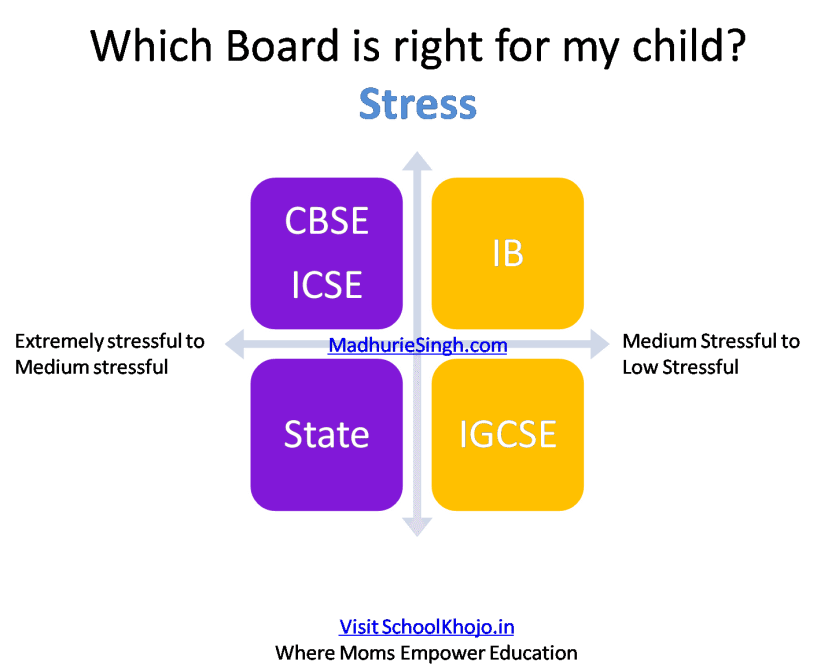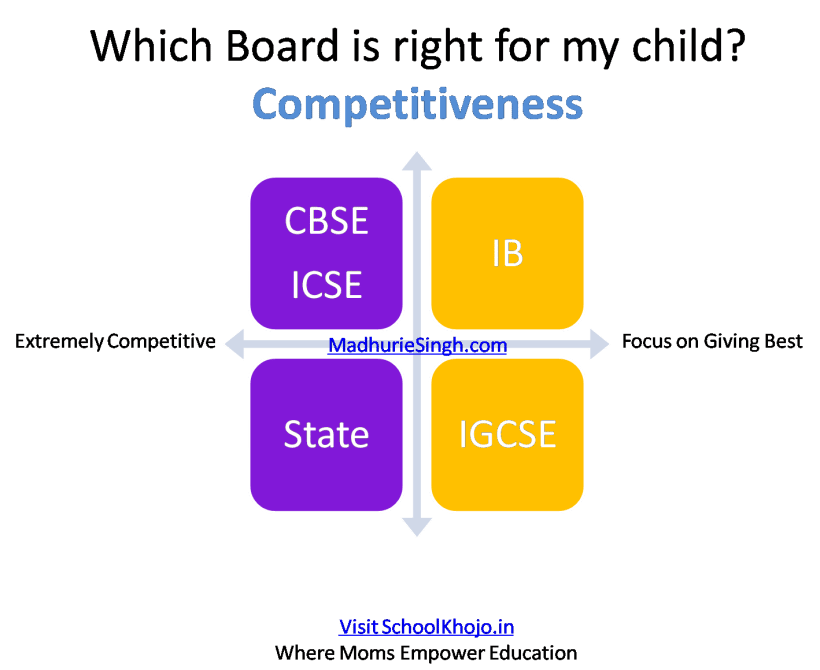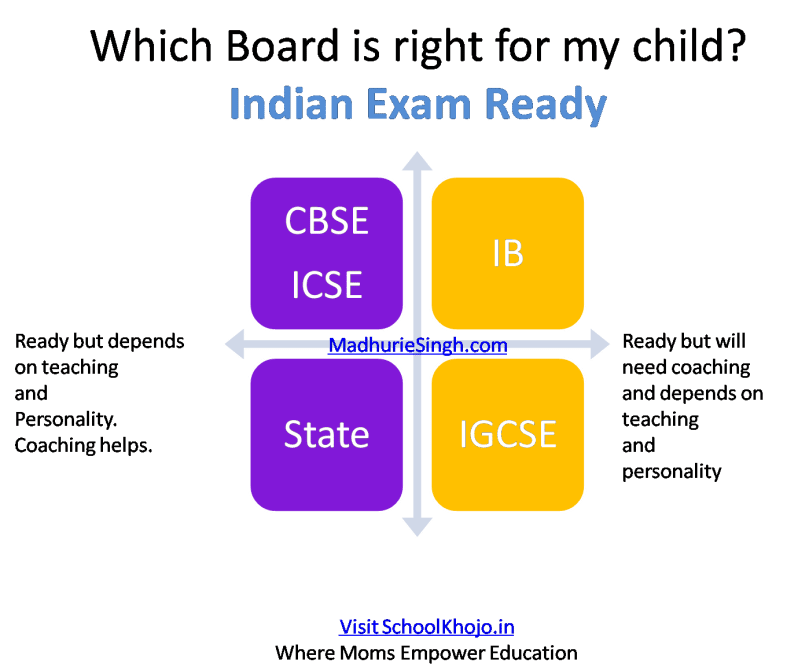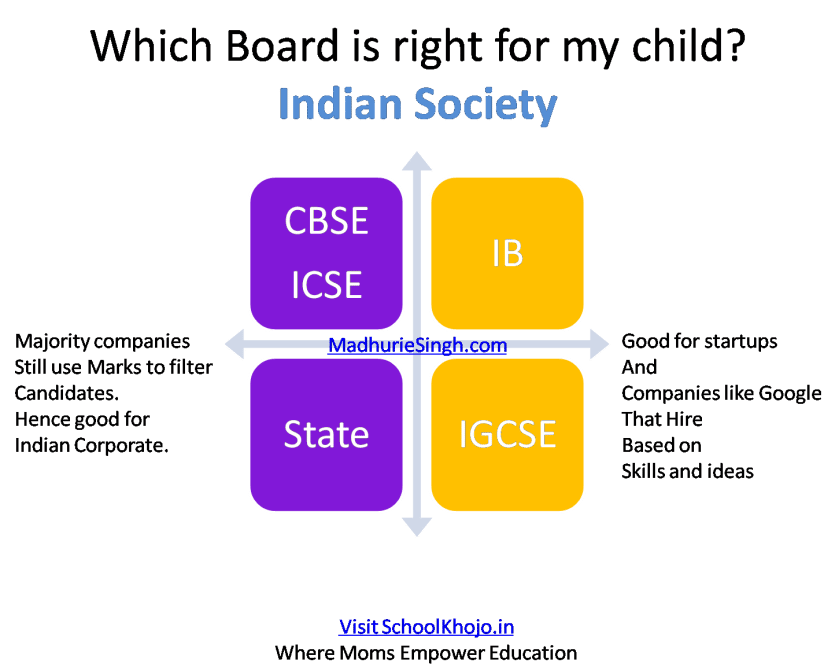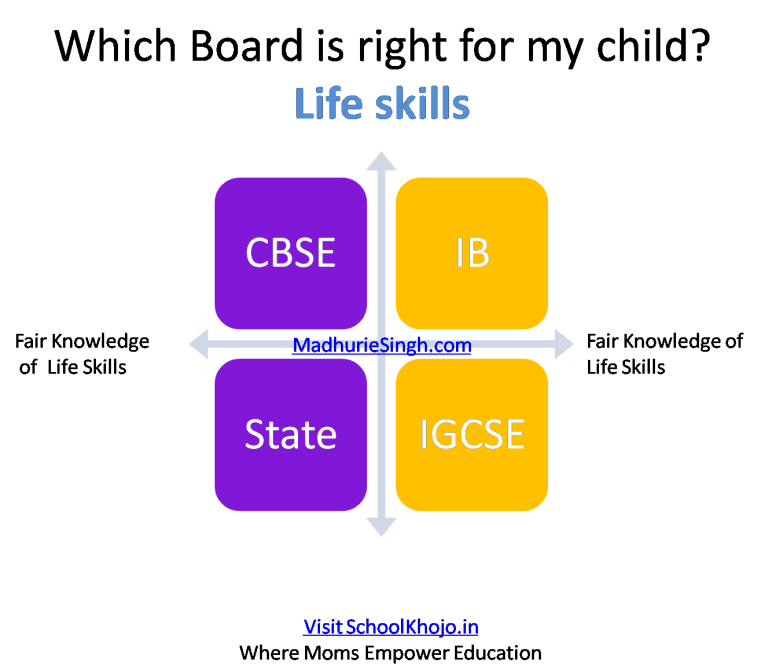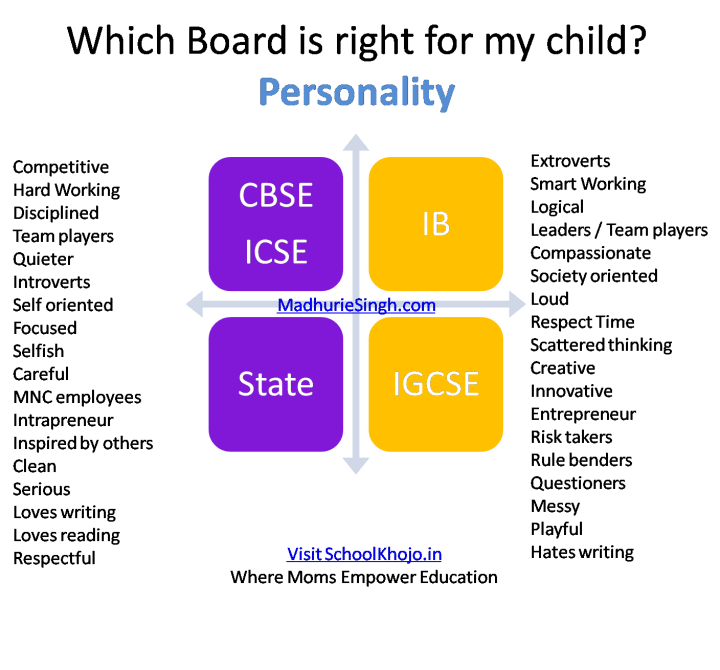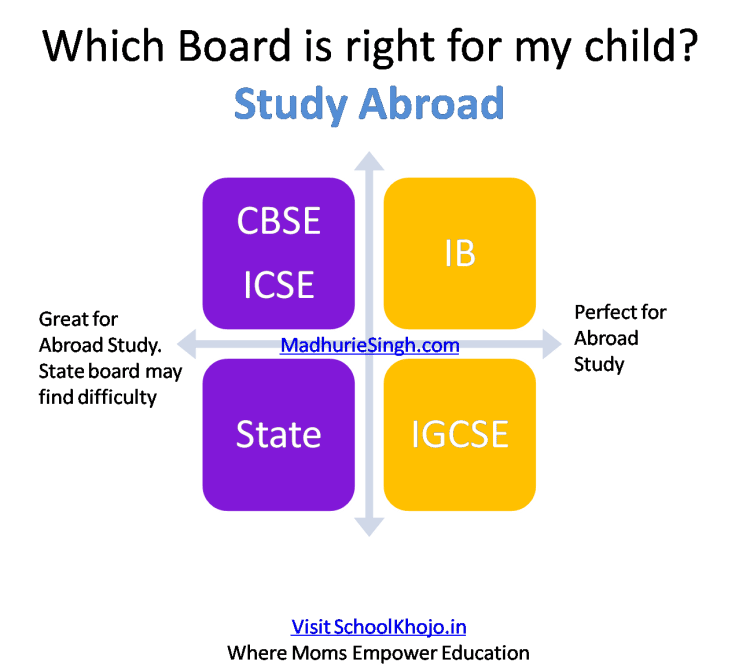 Summary
I am sure with the help of the ready reckoner you would have gotten some clarity about the best board for your child's education. Take time to select the right board. Then start making a list of the schools which are affiliated to the board you have selected. Then start visiting the schools, and reading my reviews. Beware of fake reviews or reviews posted by school admission staff or marketing agencies. They want to do their job by promoting the schools but you should not fall into their gimmicky plans. It's not like going to a restaurant where you can stop going if the food quality was bad. It's a school where your child will be going daily for 10 to 12 years. You must be sure about the board and school before you pay your hard-earned money to any school.
About Author
Madhurie Singh is India's First Schools and Products Reviewer, writing honest reviews since 2006. She has reviewed hundreds of schools and helped lakhs of parents via her consultations. She is an award-winning writer and TEDx Speaker. Read more about her here.